Contact Us
Our headquarters office is located in HsinChu, Taiwan which is also known as Silicon Valley of Asia as well as establishing an office located in Wuhan, China. Terasic also has offices in Kaohsiung, Taiwan, Korea, and China to provide the best support to local as well as global customers.
Now, we also have distributors located in other countries of Asia, Europe, Australia, and North America.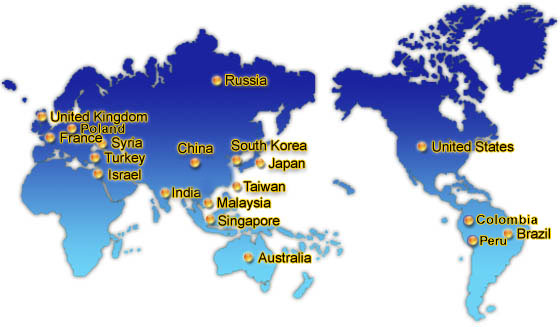 Headquarters & Branches

Headquarter Hsinchu
Tel :+886-3-5750880
Fax :+886-3-5726690
Add :9F., No.176, Sec.2, Gongdao 5th Rd, East Dist, Hsinchu City, 30070. Taiwan
Email:sales@terasic.com / support@terasic.com
Note: Our office hour is from 9AM to 6PM(GMT+8), Monday to Friday. Please press # and leave your message.
North America and World Wide

Arrow Electronics Inc.
Digi-Key

Terasic Technologies LLC.

Contact Person:Sales
Tel:+1-408-324-6826
Add:PO Box. 668, Spanish Fork, Ut 84660-0668

Mouser Electronics

Contact Person:Sales
Tel:+1-817-804-3800
Fax:+1-817-804-3803
Email:sales@mouser.com

Surf Electronics

Parallax Inc.

Contact Person:

Karen Arneson

Tel:+1-916-624-8333
Fax:+1-916-624-8003
China

Headquarter Wuhan
Tel:+86-27-8774-5390 / +86-27-8774-5391
Fax:+86-27-8774-5392
Add:406, Jinfeng Building (B), International Enterprise Center,
The Special No. 1, GuangGu Road, Wuhan, China (Postal Code: 430074)
QQ:1295329007

Altera University Program: China Region

Shanghai TranSYang Electronic Technology Co., Ltd

HuBei Xin He Xin Technologies Co., Ltd.

Shaanxi Chenghe Electronic Technology Co., Ltd.



India

EDAS Technologies
Contact Person:Rajesh Kondawar
Tel:+91-98-2246-2072
Fax:+91-71-2228-5300
Add:Plot No. 48/49, Pioneer Residency Park, Somalwada, Wardha Rd. NAGPUR 440025,
Maharashtra, India
Email:sales@edastech.com
Website:www.edastech.com

Enixs Technology India Pvt Ltd.
(Representing Altera University Program in India)

Contact Person:J.Bhuvanesh Muthu
Tel:+91-44-2448-7163
Fax:+91-44-4213-9955
Add:#1,9th East Street, Kamaraj Nagar, Thiruvanmiyur, Chennai - 600041.
Email:info@enixs.in
Website:www.enixs.in

Femto Logic Design Private Limited

Contact Person:Vanchinathan T
Tel:+91-44-4287-5961 / +91-72999-33477
Fax:+91-44-4287-5962
Add:#140, Rajagopalan Street, SriDevikarumari Amman Nagar, Valasaravakkam, Chennai, 600 087, India
Website:www.femtologicdesign.com
Note: Customers worldwide can place orders at above websites as well.

Japan

PROTOtyping Japan Corp

Solitonwave Co., Ltd

Tateno Dennou Inc.

Altima Corp.
South Korea

Woorimtni. Co., Ltd
Contact Person:Mr. Tae-Yeol Kim
Tel:+82-2-512-7661
Add:Rm. 1614, Geopyung Bldg. No. 203-1 Nonhyeon-dong, Gangnam-gu, Seoul, S. Korea
Website:www.woorimtni.co.kr

Inipro Inc.
Malaysia

AJ Infinite (M) Sdn Bhd
Minoyo

Toshi Electric Sdn. Bhd.

Vision Venture Technology Sdn Bhd
Singapore

Ace-tone Solutions
Contact Person:Mr. Quentin Goh
Tel:+65-93634011
Fax:+65-67783515
Add:20 Maxwell Road, #09-17, Singapore 069113
Website:www.acetone-solutions.com
Australia

BRAEMAC Pty Ltd.
France

PCM - Pole CNFM de Montpellier
Contact Person:Chantal BLANC
Tel:+33 (0)4 67 14 96 84
Fax:+33 (0)4 67 14 96 85
Add:Pôle CNFM de Montpellier 161, rue Ada 34095 Monptellier Cedex 5, France
Email:spcm@cnfm.fr
Website:http://cmos.cnfm.fr/
Please be acknowledged that PCM - Pole CNFM de Montpellier only sells Terasic's products to universities or research centers. This distributor does NOT sell Terasic's products to individuals or companies.

A.L.S.E (Advanced Logic Synthesis for Electronics)
Israel

To-Team
Eastronics
Poland

KAMAMI
Russia

EFO Ltd.
Contact Person:Mr. Dmitri Komolov
Tel:+7-812-327-8654
Add:Office 331, Politechnicheskaia str.-21, St.-Petersburg, Russia 194021.
Email:nsi@efo.ru
Website:www.efo.ru ; www.altera.ru

GAMMA, Vyborg, Russia.

Contact Person: Dmitry Loginov
Tel:+7-81378-25515
Fax:+7-81378-26400
Add:Severnaja str. 8, Vyborg, Russia, 188800.
Email:info@icgamma.ru
Website: www.icgamma.ru

OOO "Terraelectronica"
Syria

EDU MARKET Co.
Tel:+963 11 680 99 710
Fax:+963 11 680 99 711
Add:P.O.Box: 37, Damascus, Syria.
Website:www.edu-market.net
Note: It's our distributor in Arabic area.
Turkey

Cizgi Elektronik San Ve Tic. Ltd. Sti
Contact Person:Selda Ustundag
Tel:+90 212 356 70 70
Fax:+90 212 356 70 69
Add:Cemal Sururi Cd., Halim Meric Is Merkezi No:25 D:7,
Mecidiyekoy 34394 Sisli,Istanbul, Turkey
Email:satis@cizgi.com.tr
Website:www.cizgi.com.tr
United Kingdom

Absolute Data Services Ltd.
Contact Person:James Purdie
Tel:+44 (0)845 056 0820
Fax:+44 (0)870 705 1369
Add:9 Moorland Road, Hemel Hempstead, Herts., United Kingdom HP11NQ
Website:www.absolute-data-services.co.uk
STFC, Rutherford Appleton Laboratory
Germany

El Camino GmbH
EBV Elektronik GmbH & CoKG
Arrow Europe
Brazil

EXSTO Tecnologia
Microgenios Solucoes Eletronicas Ltda.
Contact Person:Gabriel Rosa Paz
Tel:+55-011-5084-4518
Fax:+55-011-3384-5598
Macnica DHW Ltda.
Colombia

Plintec Ltda.
Perú

PARURO PE S.A.C.