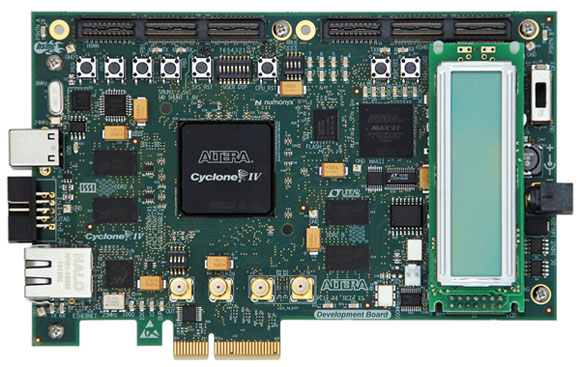 Altera® Cyclone® IV GX FPGA Development Kit provides a comprehensive, best-in-class design environment to quickly begin developing low-cost and low-power FPGA system-level designs. This kit helps to shorten your product's development cycle so that you can meet your product's time to market and production milestones. With this platform, you can:
Develop and test PCI Express® Gen1 x1, x2, x4 endpoint designs using the Cyclone IV GX PCI Express hard intellectual property (IP) and PCI-SIG® -compliant board
Develop and test multi-lane protocol bridging designs using on-board DDR2 memory and through its expansion capability, the high-speed mezzanine card (HSMC) connectors. There are over 30 different HSMCs available through Altera partners and supporting protocols such as CPRI, SATA, and SDI.
Come up to speed quickly with your FPGA design by reusing the example designs provided by the kit's Board Test System.
Use the kit´s host board as design model for your product's low-cost and low-power board.