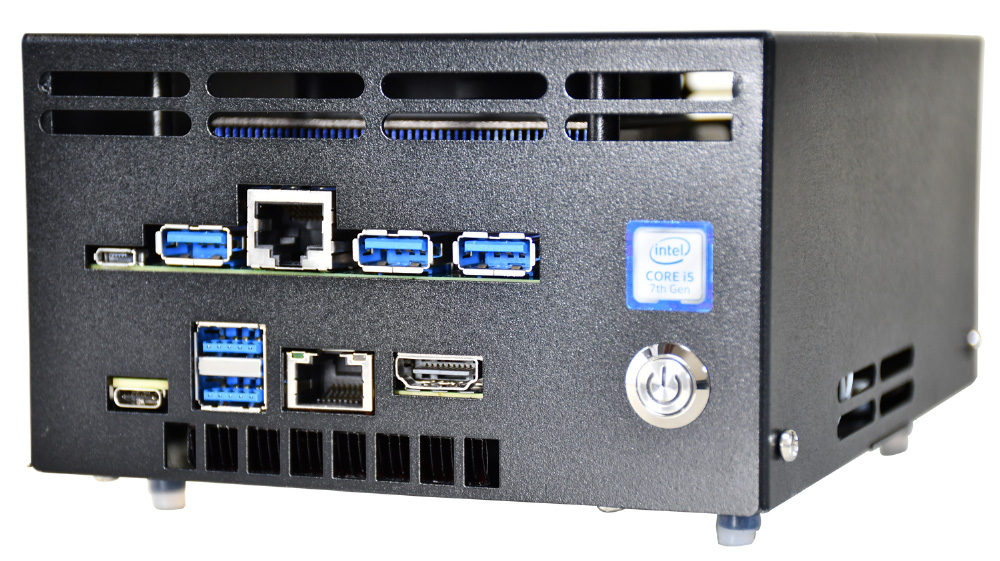 An environment of automation, human/robot interaction may soon become a reality. Terasic's HERO, a cutting-edge heterogeneous system platform solution with ultra-low power consumption and transcending performance, is designed to speed up the development of intelligent automation, such as medical robots, industrial production robots and autonomous vehicles.
HERO (Heterogeneous Extensible Robot Open Platform) combines Intel 7th Gen Core™ i5-7600T CPU system with the Arria 10 GX FPGA accelerator into a compact system of 177x135x76mm size. The CPU system provides a powerful development environment and a variety of general interfaces. It can communicate with the FPGA card through the high-speed PCIe interface – an advantage that allows the FPGA card to accelerate the performance of various user applications. The rich interfaces (such as GPIO, USB, SPI, mesh and CAN, etc.) on the FPGA accelerator allow users to connect to other systems or sensors for expansion purposes.
HERO fully supports Intel Open VINO™ toolkit to provide optimal Computer Vision and Deep Learning solutions. TensorFlow, MXNet, Caffe and other mainstream learning architectures are supported by HERO too. Our clients' systems can achieve highest computing performance and lowest cost for their AI applications; moreover, they can easily implement heterogeneous execution of the edge to the cloud with HERO.