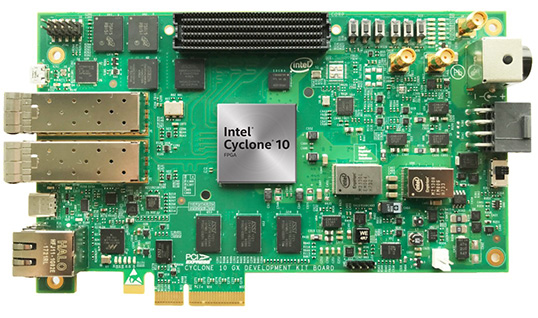 If you are evaluating Intel® Cyclone® 10 GX FPGAs or already at the design concept stage, Intel has a complete ecosystem to support your design, which includes development kits, software, intellectual property (IP), design examples , Design Solutions Network partners , and Engineer-to-Engineer videos to reduce your time to market.
The Intel Cyclone 10 GX FPGA Development Kit is an ideal starting point for applications, such as embedded vision , factory automation , or video connectivity evaluation or concept proving.

With this development kit, you can:
Develop designs for Intel Cyclone 10 GX FPGAs
Develop and test PCI Express* (PCIe*) 2.0 designs using the PCI-SIG*- compliant development board
Direct connection via USB 3.1 Type C, small form-factor pluggable (SFP+), and RJ-45 connectors
Develop modular and scalable designs by using direct connection or via the FPGA mezzanine card (FMC) connector to support protocols, such as USB 3.1 Gen2, GigE Vision,12G serial digital interface (SDI) , DisplayPort , HDMI , JESD204B , Serial Rapid I/O*, Common Public Radio Interface (CPRI), and IEEE 1588
For a complete list of IP cores from both Intel and our partners, use the IP search engine .
For more information on Intel Cyclone 10 GX FPGAs, visit the Intel Cyclone 10 GX FPGA Overview page .