tNano - Bring Your FPGA Lab Wherever!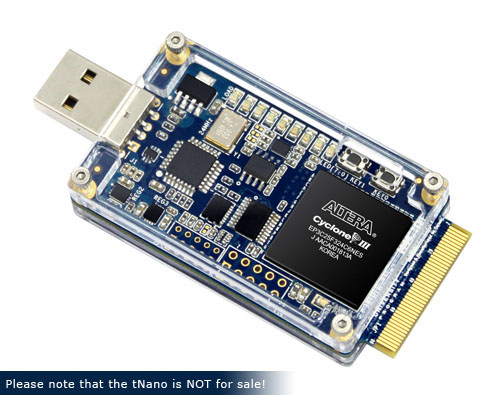 The tNano board introduces a pocket-sized FPGA development platform ideally suited for prototype circuit designs where users can easily access and control different external devices. The tNano's versatile circuit design is for anyone that wants to gain experience building real digital circuits. Targeting the Altera's Cyclone III FPGA device which offers 24,624 LEs, the tNano provides a comprehensive, ready-to-use hardware platform for multiple uses.
The tNano has a collection of interfaces including an external 80-pin edge connector to extend designs beyond the tNano board, on-board memory devices such as SDRAM and EEPROM, as well as general user peripheral with LEDs and push-buttons.
The tNano can be entirely powered either by a USB-Blaster connection or through the external on-board pins. The tNano includes software, reference designs, and accessories required to ensure the user simple access in evaluating their tNano.
---