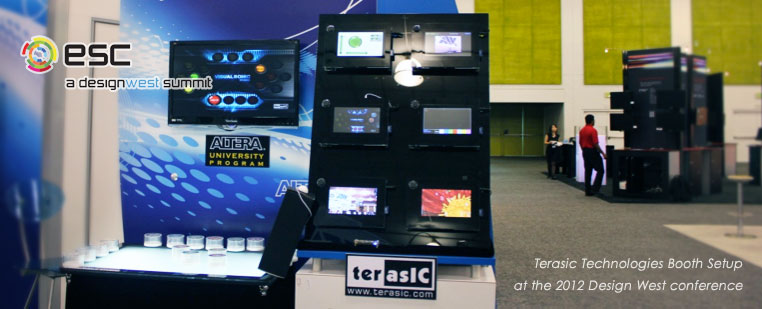 April 25, 2012
Terasic Technologies - This year's ESC was a phenomenal success as Terasic showcased "VisualSonic Studio", an interactive token-based music system, and the VEEK-MT wall, a platform composed of six Video and Embedded Evaluation Kits – Multi-touch. Showcasing in Altera's booth, Terasic was featured as part of the Design Services Network, an elite group of Altera partners dedicated towards providing premium turnkey services to Altera FPGA customers.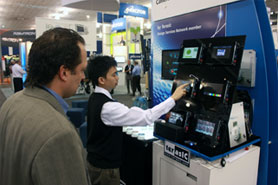 Demonstrating the Multi-touch Gesture Painter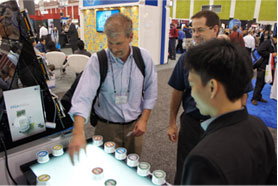 An ESC speaker tries out VisualSonic Studio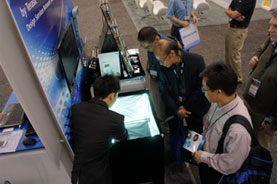 Looking inside the VisualSonic Studio setup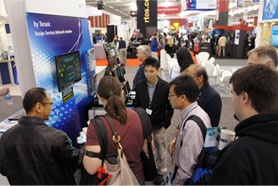 Guests line up to try VisualSonic Studio
The first exhibit was the VEEK-MT wall, made up of six independent Video and Embedded Evaluation Kits – Multi-touch, an all-in-one kit aiming to provide everything a multi-media designer requires right out of the box. Featuring a capacitive multi-touch gesture screen, five megapixel camera, light-sensor, and accelerometer, the VEEK-MT is a powerful platform, especially as the base is a DE2-115 FPGA Development Kit. The DE2-115 itself already features a multitude of interfaces such as gigabit Ethernet, VGA, audio, and much, much more, with the heart of the kit being the highest density Altera Cyclone IV E device. Six VEEK-MTs were strapped to a board to demonstrate six separate reference designs, which included edge detection sensing, gravitational sensing, Altera's Video and Image Processing Suite (VIP), and multi-touch gesture painting. For more information on the VEEK-MT, please check out www.veek-mt.terasic.com .
The star attraction of the show by far was the VisualSonic Studio project, originally introduced by a team of students from National Taiwan University, who had won first place at the Altera InnovateAsia Design Competition 2010. Featuring a system of pattern-based tokens, a DE2-115 FPGA development kits, a camera sensor, and an LED backlit frame, VisualSonic Studio impressed visitors with its intuitive control scheme to produce great-sounding musical melodies and beats via mixing and matching various tokens. Hundreds of visitors flocked to VisualSonic Studio to try it out for themselves, and they were surprised at just how much one development kit and camera sensor could achieve with the right conditions. For more information on the camera and DE2-115 development kit, please check out www.d5m.terasic.com and www.de2-115.terasic.com .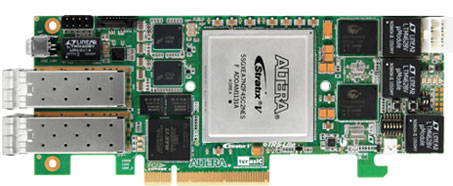 Terasic TR5-Lite Preview
Terasic also took the chance to preview the coming TR5-Lite Stratix V GX Kit, which is targeting designs that demand high bandwidth and advanced memory interfacing such as high frequency trading, data acquisition, network and signal processing. Integrated transceivers allow a transfer rate of 12.5 Gbps, making the TR5-Lite fully compliant with version 3.0 of the PCI Express standard, as well as allowing ultra-low-latency, straight connections to dual external 10G SFP+ modules. For memory options, the TR5-lite features two independent banks of 2GB DDR3 RAM, four independent banks of 32MB QDRII+, and high-speed parallel 256MB flash memory. The convenient low-profile, half-length form-factor package also allows the TR5-Lite to be utilized in various server dimensions.
All in all, the ESC show was a huge success for Terasic. Visitors were captivated by impressive display of demonstrations Terasic had prepared, where many folks even wanted to capitalize on the VisualSonic Studio as a viable business idea for clubs and bars. With the positive feedback and enthusiasm from customers, Terasic will continue to set new standards and soar new heights in the field of FPGA development.