March 15 , 2011【 Terasic Technologies / Hsinchu, Taiwan 】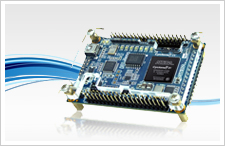 In collaboration with Altera's University Program, Terasic Technologies has announced the release of Altera's newest University Program FPGA development board, the
DE0-Nano
. Measuring just 49 mm by 75.2 mm and weighing about 40 grams, the
DE0-Nano board
is well-suited to a wide range of portable design projects, such as robotics applications.
The DE0-Nano is ideal for use with embedded soft processors - it features a powerful Altera Cyclone IV FPGA ( with 22,320 logic elements ) , 32 MB of SDRAM, 2 Kb EEPROM, and a 16 Mb serial configuration memory device. For connecting to real-world sensors the DE0-Nano includes a National Semiconductor 8-channel 12-bit A/D converter, and it also features an Analog Devices 13-bit, 3-axis accelerometer device.
The DE0-Nano board includes a built-in USB Blaster for FPGA programming, and the board can be powered either from this USB port or by an external power source. The board includes expansion headers that can be used to attach various Terasic daughter cards or other devices, such as motors and actuators. Inputs and outputs include 2 push-buttons, 8 user LEDs and a set of 4 dip-switches. In addition to the hardware, Terasic Technologies also provides all source code for every component on board that enables users to quickly and easily gain an understanding of the basic design concepts. For more information, please visit de0-nano.terasic.com .
Altera University Program
The Altera University Program is dedicated to introducing students to digital design technology. Support includes hardware, software and teaching materials. Extensive resources can be found at www.altera.com/education/univ/unv-index.html , which include easy-to-follow tutorials and laboratory exercises for use in digital logic and computer organization courses.