People who just came to the FPGA world can drown and get lost in the many varieties of the FPGAs. "What do I need?", "Where can I start in an entry level FPGA?", "How is the quality?" and "How can I get the best value?" are the most asked questions.
Many of Terasic's FPGA development boards were voted by FPGA experts to be the best valued FPGA development boards available. For example, there is an article by one of the most experienced FPGA users on Quora, a website that is organized and run by its community of users, to have the best affordable FPGA dev kit for a novice user.
Here are some examples for Terasic's cost-effective FPGA boards: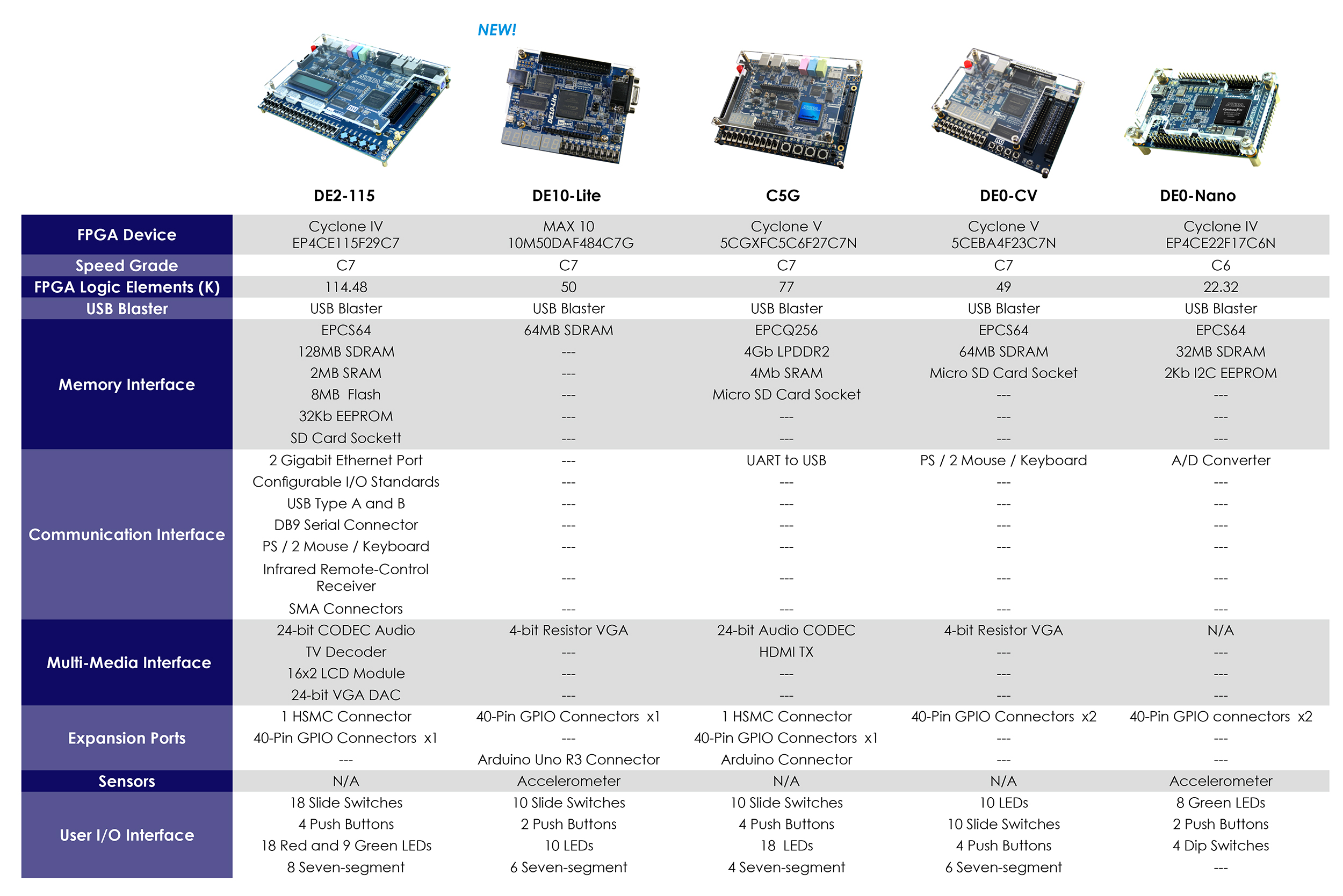 DE10-Lite
Terasic DE10-Lite is a cost-effective Altera MAX 10 based FPGA board. The board utilizes the maximum capacity MAX 10 FPGA,which has around 50K logic elements (LEs) and on-die analog-to-digital converter (ADC). It features on-board USB-Blaster, SDRAM, accelerometer, VGA output, 2x20 GPIO expansion connector, and an Arduino UNO R3 expansion connector in a compact size. The kit provides the perfect system-level prototyping solution for industrial, automotive, consumer, and many other market applications.
The DE10-Lite kit also contains lots of reference designs and software utilities for users to easily develop their applications based on these design resources.(--Learn More )

DE2-115
The DE2 series has consistently been at the forefront of educational development boards by distinguishing itself with an abundance of interfaces to accommodate various application needs. Extending its leadership and success, Terasic announces the latest DE2-115 that features the Cyclone IV E device. Responding to increased versatile low-cost spectrum needs driven by the demand for mobile video, voice, data access, and the hunger for high-quality images, the new DE2-115 offers an optimal balance of low cost, low power and a rich supply of logic, memory and DSP capabilities.
The Cyclone EP4CE115 device equipped on the DE2-115 features 114,480 logic elements (LEs), the largest offered in the Cyclone IV E series, up to 3.9-Mbits of RAM, and 266 multipliers. In addition, it delivers an unprecedented combination of low cost and functionality, and lower power compared to previous generation Cyclone devices.
The DE2-115 adopts similar features from the earlier DE2 series primarily the DE2-70, as well as additional interfaces to support mainstream protocols including Gigabit Ethernet (GbE). A High-Speed Mezzanine Card (HSMC) connector is provided to support additional functionality and connectivity via HSMC daughter cards and cables. For large-scale ASIC prototype development, a connection can be made with two or more FPGA-based boards by means of a HSMC cable through the HSMC connector. (--Learn More )
DE0-CV
The optimized DE0-CV is a robust hardware design platform which uses the Altera Cyclone V FPGA device as the center control for its peripherals such as the on-board USB Blaster, video capabilities and much more. With this amazing platform, you will get the power and the performance you need for high-volume applications, including prototyping bridging, motor control drives, capture cards and handheld devices at the lowest costs. The DE0-CV is the perfect showcasing and evaluation solution which we've kept all the prototyping features on a small 128x99mm development board.
The DE0-CV contains all components needed to use the board in conjunction with a computer that runs the Microsoft Windows XP or later. (--Learn More )
DE0-Nano
The DE0-Nano is a compact size Development and Education Board. It has a very good value at an economical price and under $100. The Cyclone IV FPGA device has approximately 20,000 LEs and is capable of coding C on a processor within. The board has two external GPIO headers to extend its usage and comes with SDRAM and EEPROM for data storage. (--Learn More )
C5G
The Cyclone V GX Starter Kit, also known as C5G, has the potential to accommodate the needs of even the most experienced users. It comes with Cyclone V GX device which offers 77,000 LEs, embedded memory, and transceivers running at 3.125Gbps. It has Arduino compatible headers to provide a broader range of add-on boards. Users can download CD information with datasheets and reference designs with source code. It also provides System Builder and Control Panel software to help users generate a template in Verilog in seconds. (--Learn More )
Terasic boards often provide more value than its competitors. If you are new and looking for some good suggestions, you can look online and you will probably find that users usually give the most honest opinions as well as useful information. If you are new to the FPGA or you don't know which development board to get your hands on first, we highly recommend you go to this website and look at the reviews on the FPGA or contact our sales team at sales@terasic.com .
Reference
James, G. (Sep 14, 2013). What is the best affordable FPGA dev kit for a starter? Retrieved from https://www.quora.com/What-is-the-best-affordable-FPGA-dev-kit-for-a-starter