A Significant contribution to global FPGA education and engineering development!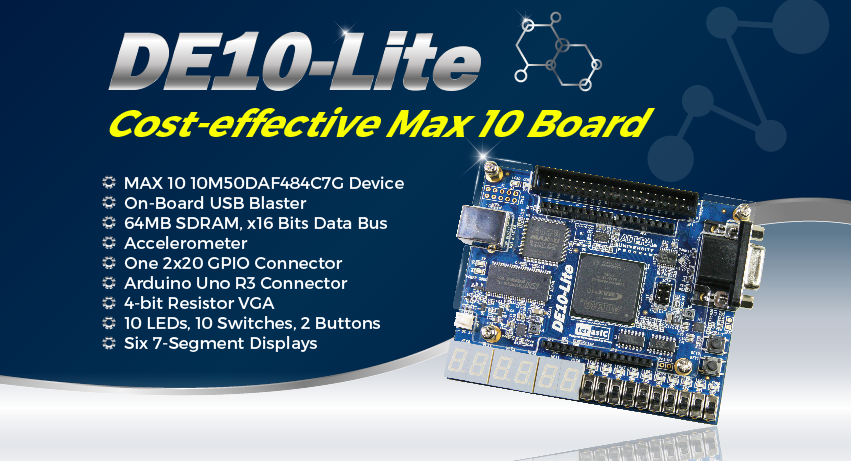 Affordable, versatile, and lightweight, Terasic's new DE10-Lite sweeps all ranges of users off
their feet with the stunning advantages it offers.

In collaboration with Intel FPGA University Program (Former Altera University Program), Terasic Technologies creates a complete, high-quality design environment with the release of DE10-Lite development & education board. With its multifaceted feature, various usages ranging from teaching, invention, to industrial applications such as automotive and internet of things, (IoT) are covered evenly.
As a newest entry for Terasic's cost-effective DE series, the DE10-Lite kit provides a low-cost yet equally competitive alternative to the current Max 10 NEEK, an all-round multimedia-oriented development board equipped with a multi-touch LCD panel.
The kit provides a full-featured platform for embedded system development. Powered by Max 10 (with 50k logic elements), a dual-configuration non-volatile FPGA featuring 1.6Kb of block memory, 4 PLLs and 2 integrated ADCs, the kit enables instant-on functionality, providing a science box for users' embedded development. The kit also features a set of Arduino Uno R3 compatible headers providing access to six of the MAX10's ADC channels. This inclusion makes the DE10-Lite an apposite gateway for Arduino owners who seek to develop something new from scratch.
Alongside the board is a set of ten user LEDs and switches, two push buttons and six 7-segment digits ready for users to implement basic logic functions. The board also includes a VGA output, a fairly uncommon addition in this price range, and a 40-pin GPIO header for users to attach various daughter cards or other customized expansion boards to support a wide range of high-volume, cost-sensitive applications.
In addition to hardware, Terasic also provides a comprehensive tool suite for users to develop their projects. Terasic's proprietary System Builder toolkit can automatically generate project packages and pin assignments according to users' configuration─a function that dramatically shortens the initial project setup time and minimizes the error-prone manual process. Along with the System Builder, the Control Panel utility allows users to examine the various features of the DE10-Lite board.
At the forefront of FPGA design development, Terasic provides an industry-leading combination of cost-effective and high-efficiency environment with the unveiling of DE10-Lite development and educational Kit. With Terasic, you will find the fastest path to convert your ideas into reality.