Terasic chooses Enyx to offer ultra-low latency development framework and design services for their latest FPGA platform
News || September 2018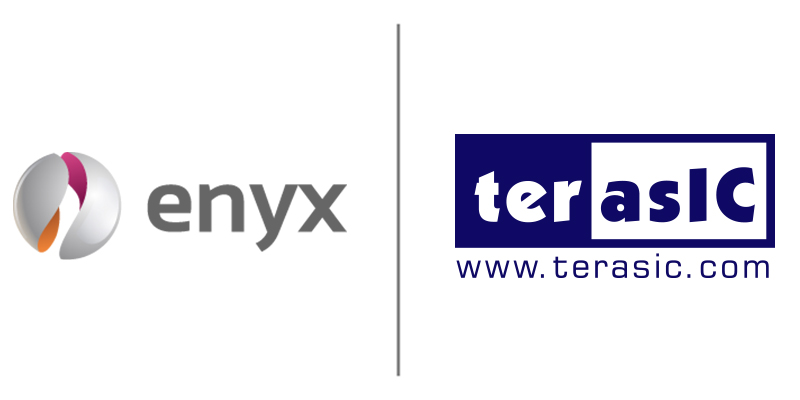 New York, Hong Kong, Taipei – September 26, 2018 – Terasic , the premier developer of Intel FPGA platforms today announced a partnership with Enyx , the leading independent provider of FPGA-enabled, ultra-low latency trading technologies, offering integrated Enyx FPGA IPs for an ultra-low latency, customized development framework on Terasic's DE5a-Net DDR4 accelerator.

The partnership will provide Terasic's global client base with access to Enyx's development framework , including a Sandbox where users can insert their own logic to interface with Enyx IP cores, such as TCP and UDP Stacks, MAC/PCS layers and Enyx's DMA engine (HFP). Packaged with an easy-to-use software API and Linux drivers, the Enyx development framework constitutes the perfect "start-up kit" to reduce time-to-market and jump-start your FPGA-enabled projects.

With twenty years of experience in developing high-end solutions for the industrial and FPGA system markets, Terasic provides first-class, design-to-order services for large-scale deployment of high speed boards and ready-to-use, highly optimized systems. The rugged FPGA systems have been deployed in various extreme environments, such as Wall Street's zero-downtime data center and 5G base station in desert.

Enyx's development framework, together with Terasic's DE5a-Net DDR4 accelerator, offers an industry-first development kit for trading firms that aim to build their FPGA-enabled solutions in-house, including risk-check gateways and ULL tick-to-trade platforms. Clients' systems can achieve highest performance and lowest cost for their high-bandwidth applications by leveraging the Arria® 10 FPGA on DE5a-Net DDR4 to develop cost-competitive state-of-the-art solutions for today's financial industry.
Arnaud Derasse, co-founder and CEO at Enyx says,
"At Enyx, our main goal is to provide the latest FPGA technology to answer our customer's challenges, so we are honoured to have been chosen by Terasic and to be recognized for our expertise in understanding the real challenges of today's trading infrastructure.

After opening our Hong Kong office in early 2018, partnering with Taiwan-based Terasic highlights our expanded presence in the Asia-Pacific region, providing new ways to access and trade across both local and global markets. By bringing together Enyx's expertise in trading technology and HFT, with Terasic's leading FPGA hardware platforms -- we can help our clients find success in today's emerging markets."
Sean Peng, founder and CEO at Terasic Inc., comments,
"Being Intel's most important contract FPGA platform manufacturer for more than 15 the years, Terasic's robust, on-the-field FPGA platforms have been massively adopted to power the most performance-demanding applications in 21st century, such as high frequency trading, DNA and genetics sequencing, big data analytics.

The partnership with Enyx is invaluable – by combining Terasic's best-in-class hardware design expertise with Enyx's industry-first IPs and market access technologies, we look forward to providing the best end-to-end solution to address the challenges of today's computational finance applications."
About Enyx



Enyx is a leading, independent provider of FPGA-enabled, ultra-low latency trading and market access technologies. We specialize in high performance market data acquisition and distribution, order execution, and network connectivity management.

We help investment banks, hedge funds, technology service providers, and exchanges streamline their trading infrastructures by providing end-to-end, high performance solutions that satisfy both latency and non-latency sensitive trading infrastructures, with global customer service and dependable support. Our clients benefit from higher performance and lower datacenter footprint than those using solutions with less cutting-edge technology.

Enyx's Enterprise Class Market Data Distribution product ( nxFeed ) is an ultra-low latency feed handling solution which distributes market data at ULL using the industry's latest FPGA technology. nxFeed offers fully processed, filtered, and normalized market data for large multi-site trading infrastructures with an average performance of 1.0 μs. Complementary to nxFeed, Enyx offers an FPGA-enabled market access solution ( nxAccess ) with accelerated execution features such as order pre-loading, active kill switch and full hardware TCP stacks.

For more information, please visit enyx.com , follow us on Twitter @EnyxFpga or visit our LinkedIn page.
About Terasic

Terasic is the leading provider for FPGA-based hardware & complex system solution. With twenty years of experience in developing high-end solutions for the industrial and FPGA system markets, our team provides the first-class design-to-order services for high speed boards and custom rugged system solutions to help our customers achieve their demanding applications in High Performance Computing, High Frequency Trading, network processing, radar detection, instrumentation, etc.

Terasic is Intel's most important contract manufacturer and certified OpenCL design services provider. Headquartered in Hsinchu, Taiwan, the silicon valley of Asia and the cradle of invention and creativity, Terasic boasts an extensive product portfolio from COTS of PCIe-based boards, high speed boards, FMC & HSMC daughter cards for networking & video processing to cost-friendly educational & development kits widely used by today's college education and worldwide research institutes. At Terasic, we also offer assistance to our clients in aspects such as porting, optimization and benchmarking of applications executed on Terasic FPGA boards. Our support includes software upgrade and OpenCL design services. Our clients come from different background such as high performance computing, investment banks, data center, military & aerospace, medical & biomedical, robotic & automotive sectors, universities/research institutions, etc.

For more information, please visit www.terasic.com or subscribe to our newsletter to get latest
news & product updates.