Sep 24 , 2011【 Taipei 】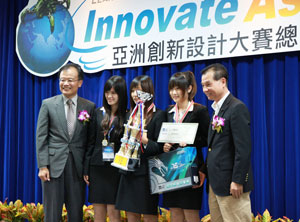 Running through its eighth consecutive year, InnovateAsia Design Contest 2011 is the premier FPGA design contest to promote student engineer creativity. Organized by Terasic and Altera, and co-sponsored by Agilent, ISSI, Linear Technology, and the Legislation Committee member Fuxing Li, InnovateAsia was held today at the Taipei Nangang Exhibition Center. The engineering event attracted university students and professors country-wide, where students used Terasic DE2 FPGA Development Boards as learning platforms to realize their amazing projects. Numerous key people attended the event, including Ministry of Economics Representative Mingji Wu, ITRI Director Shaozhong Xu, Ministry of Education Representative Xuezheng Liang, and legislation committee member Fuxing Li. Judges of the event included not only key Terasic engineering managers, but also key members from Altera, ISSI, Agilent, Linear, and ITRI. Judging also took place among visitors, where the audience could vote for their favorite project through voting slips.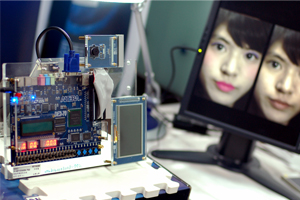 This year's champions came from National Taiwan University's Electrical Engineering Department, led by Professor Shao-Yi Chien and students Ting-Yu Chen, Torng Wen, and Tseng Li, with a project titled "Makeup Simulation System." The three students won thousands of dollars in cash prizes as well as a top-of-the-line FPGA development board featuring Altera's Stratix IV. "Makeup Simulation System" functions as the title suggests, simulating makeup for users by firstly acquiring a photograph. The user then uses a touch-screen to clarify five key points on the face and then applies eye shadow, lipstick, and blush. The end result is a marvelous surprise as the system takes the photograph and transforms it into a fully made-up portrait of the original. The design allows women to save time when trying on new cosmetics by eliminating the various steps in applying and removing makeup, while also resulting in less harm to the user's skin. The system even lets users set default makeup profiles such as classy makeup, dark makeup, party makeup, etc. to allow women to view themselves in all types of scenarios at the touch of a button.
The "Makeup Simulation System" team members reflected that they were extremely happy to have had a chance to join InnovateAsia, as it has allowed them to continuously learn, and gave thanks to Altera and Terasic for having provided this great opportunity. Applying problem-solving techniques into design code was a rewarding experience, and they hope to inspire all women to persevere in the heavily male-dominated engineering community.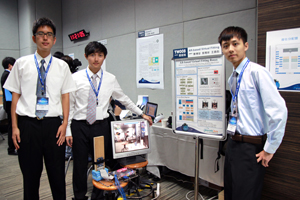 Second place was the team behind "AR-based Virtual Fitting," which won a 3000 dollar FPGA development platform as well as 1000 dollars. Also from National Taiwan University's electrical engineering department, the team was led by Professor Shao-Yi Chien and students Po-An Tsai, Yu-Hsin Kuo, Ting-Chun Wang. The project implemented a fitting room system for shoes by utilizing two cameras, allowing users to forgo physical shoes for virtual shoes. Users could simply view an external monitor to see how shoes would look like on themselves virtually in real-time. Users could also select different shoes by waving a colored glove which would instantly display a new shoe on their feet. Not only does this save time for the customer, the students also see numerous applications in online shopping, where shoppers won't even have to leave the house to purchase footwear.
The "AR-based Virtual Fitting" team also expressed their gratitude for this great opportunity to take part in InnovateAsia 2011. Through teamwork and collaboration, the students learn to work together effectively and will remember this day for years to come.
In third place were three teams: "Visual Composer", "ePaper IC Design for Handwriting and Display", and "Three-dimensional Endoscopic Visual Aid System." Each of the teams won 300 dollars as well as a 1000 dollar FPGA development platform. Other projects at the competition included a five-in-one wireless control system, a transforming robot, and many others, showcasing the creativity of students for numerous guests, many of whom anticipate next year's competition.
Numerous guests from academia, government, and industry will be giving speeches on stage to commemorate InnovateAsia and encourage students on their great projects. With the decline of the labor industry, it is time for the innovation to take over, which undoubtedly will be a jolt for students and inspire even more determination to succeed. With each coming year, the projects will become better and better, providing the perfect platform for innovators to realize their dreams.
The top five winning teams will participate in this year's cross-strait competition in Chongqing, China, starting from October 22, where the finalists from both countries will face off in an epic battle for the championship. The future of Taiwanese glory will be born from this year's InnovateAsia Design Competition!