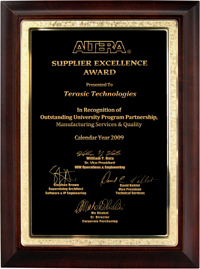 2009 Supplier Excellence Award, with the signatures of William Y Hata, Altera Senior Vice President of Worldwide Operations and Engineering, David Kehlet, Altera Vice President of Technical Services, Stephen Brown, Altera Supervising Architect Software and IP Engineering / Altera University Program Manager and Mohammed Dhakni, Altera Senior Director of Corporate Purchasing
Terasic Technologies Inc., the leading provider of state-of-the-art FPGA prototyping systems, announced that Altera Corporation has once again awarded Terasic the Supplier Excellence Award for outstanding partnership and support for 2009. Terasic Technologies has also received this award twice for 2006 and 2008. Altera Corporation (NASDAQ:ALTR), the world's pioneer in system-on-a-programmable chip (SOPC) solutions, provides high-value programmable solutions. Terasic Technologies is a highly recognized Altera partner in FPGA platform designing and manufacturing.
Mohammed Dhakni, Altera Senior Director of Corporate Purchasing, visited Terasic Technologies on July 30th, 2010 for an annual review. "Terasic is really keeping on the good job by making all Altera FPGA boards, and you have plenty of talented people here. Terasic really has a strong design team and you are able to carry out all the smart designs. Before I leave, there is a gift for you," Mr. Dhakni said. The 2009 Supplier Excellence Award was once again presented to Terasic CEO Sean Peng.
"This is a really big surprise and wonderful gift for all our hard-working team members here. We are really honored to receive this prestigious award. The recognition is a great encouragement for us," Peng said with much excitement. It was further noted by Peng that Terasic always keeps its promises to its customers by providing better products, reducing cost, and shortening time-to-market. The mutual trust between Altera and Terasic is key to success for both parties.
After receiving the Supplier Excellence Award in 2006 and 2008, Terasic Technologies strives to design with even more innovation for new products. Terasic Technologies will continue developing high-quality FPGA platforms and provide the best support and services to customers world-wide.