March 21 , 2011【 Terasic Technologies / Hsinchu, Taiwan 】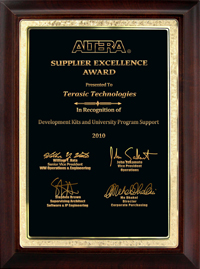 2010 Supplier Excellence Award, with the signatures of William Y. Hata, Altera Senior Vice President of Worldwide Operations and Engineering, John Sakamoto, Vice President of Operations, Stephen Brown, Altera Supervising Architect Software and IP Engineering / Altera University Program Manager and Mohammed Dhakni, Altera Senior Director of Corporate Purchasing
Once again, Altera Corporation has awarded Terasic Technologies the Supplier Excellence Award for outstanding service of 2010. Altera Corporation ( NASDAQ:ALTR ), whose market share and stock price have been growing, introduced a 2011 product roadmap to Terasic after the award ceremony. It is expected that Altera and its long-term partner, Terasic, will work closely and give birth to killer FPGA products of the next generation.
John Sakamoto, Altera's newly appointed Vice President of Operations, visited Terasic Technologies in March this year for an annual review. "We've been really impressed by the accomplishments you have achieved. We want you to handle the Stratix V projects because of the success experiences in the past. To thank you for your support, I brought you this," Mr. Sakamoto said. The 2010 Supplier Excellence Award was presented to Terasic CEO Sean Peng.
"It's been our pleasure to work with you and reach goals together. Altera not only wishes itself success, but also wishes partner success at the same time. We really appreciate that. To pay back, we need to work harder," Peng expressed. It was further noted by Peng that Terasic will manufacture Cyclone V and Arria V series FPGA boards according to the Altera roadmap.
Starting from 2006, Terasic Technologies received four Altera Supplier Excellence Awards in total. It seems there are more to come.