Hsinchu, Taiwan, May 28, 2012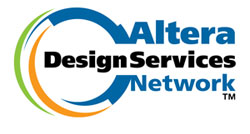 Terasic joined the Altera Design Services Network (DSN) Program.
Terasic Technologies , the leading provider in high-performance hardware and software solutions, is proud to announce its new identity - Altera Design Services Network Partner. Having been invited to join the Altera Design Services Network (DSN) Program in March, 2012, Terasic was once again acknowledged as a strong and supporting partner of Altera.
Partnered with Altera for nine consecutive years, Terasic has time and time again assisted Altera in providing timely services, high-quality products, and excellent technical support to customers. From Q4 in 2011 to Q1 2012, Terasic most recently successfully manufactured and delivered 28nm FPGA development kits, such as the Stratix V GX FPGA Development Kit and Transceiver Signal Integrity Development Kit, Stratix V GX Edition . Terasic's testing expertise played an important role in the engineering builds for these advanced boards -errors were prevented at an early stage, and possible mistakes were avoided for volume production builds. With Arria V and Cyclone V SoC FPGAs right around the corner, Terasic is excited to deliver even more boards to meet customer application demands.
Michael E. Sharpless, Altera Worldwide Program Manager, expressed: "The DSN program has been designed to offer new benefits to make it easier for our partners to support complex programmable projects and increase visibility with both customers and Altera field teams." Along with Altera DSN support, Terasic brings extensive experience and expertise in high-quality, cost-competitiveness, and most importantly, an extremely fast design-to-completion cycle of high-end solutions to the table. In 2009, Terasic designed and custom-made a 40nm Stratix IV GX FPGA board for the world's largest aerospace company, using simulation all the way down to the PCB level to eliminate signal integrity issues – resulting in a flawless board in the first iteration. Subsequently in 2011, Dr. William Moses, IEEE Fellow and Senior Staff Scientist of Lawrence Berkeley National Lab, turned to Terasic for assistance for OpenPET, an open source medical system for prototyping imaging sensors. Terasic developed the OpenPET Prototype Imaging System within six weeks, which also successfully delivered without a need for a second iteration! Beyond turn-key services, Terasic also designs and manufactures commercial off-the-shelf products, such as the DE4 development board , featured most recently in Altera's white paper detailing development of OpenCL on FPGAs for financial and high-performance computing applications.
Being Altera's Design Services Network Partner, Terasic will keep working on providing the best solutions for the companies seeking extraordinary services.