The Intel Cornell Cup USA has announced the winners for 2013's electronics design competition, which utilized the Terasic DE2i-150. The event features teams from all over the country, featuring nearly every aspect of innovative embedded systems, such as intelligent home appliances, radar imaging systems, and much more. In order to enhance the fairness of the competition, all reviews were completed "blind," which meant that student names, universities, and advisors were hidden from judges. Teams were comprised of 3 to 5 undergraduate and masters students.
The first three places went to teams Titan, Cyber Physical Systems, and Intracell. Titan designed an untethered, powered, upper-body exoskeleton for us in rehabilitation and recovery applications, and even augmented upper-body strength. Key points included the relatively cheap cost and wireless capabilities.
Cyber Physical Systems developed a semi-autonomous wheelchair with cost-effective, modular sensor packages that attached to commercially available electronic wheelchairs.
Intracell developed inexpensive, networked cell phone transceiver nodes that extend the capabilities of the global cellular network in order to provide service coverage to hard-to-reach geographical and architectural areas.
All teams utilized the DE2i-150 platform, a revolutionary embedded platform that combines an Intel embedded N2600 processor with the flexibility of an Altera Cyclone IV GX FPGA. Designed in Taiwan by Terasic, the DE2i-150 is a full-featured computer system that boasts 150K logic elements for ultimate flexibility in terms of reconfiguration of actual hardware circuitry and intellectual property, as well as on-board multimedia peripherals, extendibility options for a true system-ready solution for any task. Capable of running complete operating systems, the DE2i-150 presents a powerful hardware-software co-development environment with unlimited potential.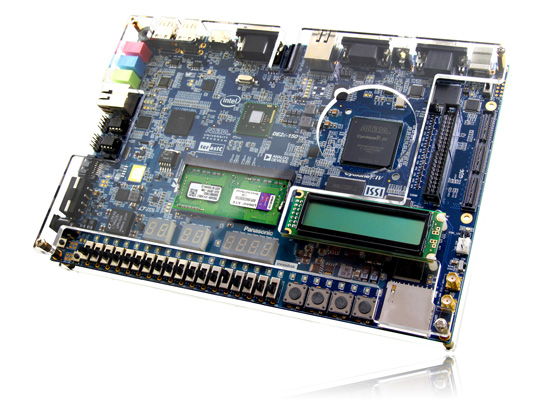 Terasic is proud to have been a partner of Intel and to have designed the primary driving-force behind the Cornell Cup. Offering advantages such as FPGA system solution packages, varied daughter card extensions, hardware design and IP design services, Terasic aims to improve education and industry by leaps and bounds by continuously offering next-generation platforms for learning and design.