May. 6th , 2015【 Terasic Inc 】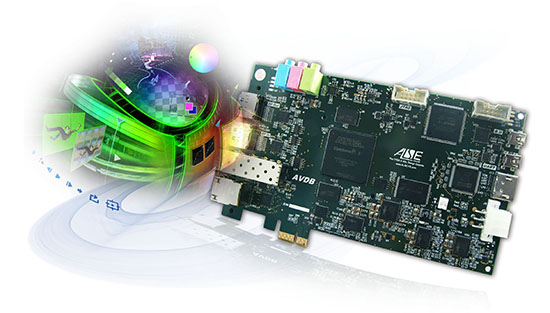 The Cyclone V GT FPGA based-platform delivers affordable solution while still maintain to provide up to twelve 6.144 Gigabits transceivers and other rich features that can readily meet requirements for the broadcast and the entertainment market.
Hsinchu, Taiwan – Terasic, a premier board supplier for over 10 years, announced today the release of Advanced Video Development Kit based on Altera Cyclone V GT FPGA. The high-performance, power and cost-efficient Cyclone V GT makes the kit not only affordable but also an ideal platform for broadcast and signal intelligence applications. Complex algorithms such as video transformation, compression, decompression, format/rate changing, or others can be implemented in the FPGA and run in real-time, outperforming the most powerful CPUs and associated software.

With its small form factor and its ubiquitous Gen2x1 PCI Express format, you can plug one or more boards in practically any PC and benefit from transfer rates around 5 Gbps, thus allowing a real time transfer of 1080p60 or 3G video (or higher resolution with compression) between the board and the host, with minimal CPU overhead.

This high-end state-of the-art board is an excellent companion for audio/video application developers and manufacturers. The Altera Video IP (VIP) suite can also be used on this board to instantly realize your design for exciting and practical applications .

Terasic Advanced Video Development Kit Overview
Terasic's Advanced Video Development Kit is a PCIe card based on the Altera Cyclone V GT FPGA:
Cyclone V GT 5CGTFD9E5F31C7 Device

113,560 logic elements (113560 ALM, 227120 registers)

12,492,800 Memory bits (1220 M10K)

342 DSP Blocks

12 PLLs

8 Fractional PLLs

4 DLLs

2 Hard Memory Controllers

12 HSSI PMA RX Channels

12 HSSI PMA TX Channels
Memory Device:
24 Gbits of DDR3 SDRAM (16-bit data bus)

32 Gbits NAND Flash

User Quad SPI Nor Flash–256 Mbits
Communication:
PCI Express Gen1 and Gen2 x1lane

1 Gigabit Ethernet PHY with RJ45 connector (10/100/1000 Et

1 SFP Interface (can be used for Multi-Gigabit Ethernet)

UART to USB (USB Mini-B connector)
Video Inputs/Video Output:
DisplayPort Video Input (v1.1 and DP v1.2 Compliant)

HDMI Video Input (HDMI 1.4 Compliant)

DisplayPort Video Output (v1.1 and DP v1.2 Compliant)
Audio:
24-bit CODEC, Line-in, Line-out, and microphone-in jacks