DE5-NET on NetFPGA is now completed!
[ 2014/11/03, Terasic ]
University of Massachusetts Amherst has recently announced that they've successfully using the Altera DE5-NET Stratix V FPGA development board on the NetFPGA project . In addition to a more affordable solution by using FPGA, the multi-functional interfaces with connectors also provided the users a more flexible and resilient Network solution. Following Altera's strong support in year 2012 to practice NetFPGA on the DE4 , once again, another great breakthrough was done for the DE5-NET.
NetFPGA is a shared open platform which contains powerful resources that provides high-speed internet and prototyping environment for hardware- accelerated system design. Many researchers and students use this platform extensively to practice Gigabit Ethernet transmission control protocol development.
On the Altera DE5-NET board, it has 10 Gigabite web interface, different kinds of high-speed I/O devices, and a 32MB QDRII compatible SRAM that can expand with 8GB DDR3 So-DIMM SDRAM. Furthermore, this incredible high speed scaled Stratix V development board also supports PCIe Express interface which provide the Altera FPGA users an affordable but high efficiency option!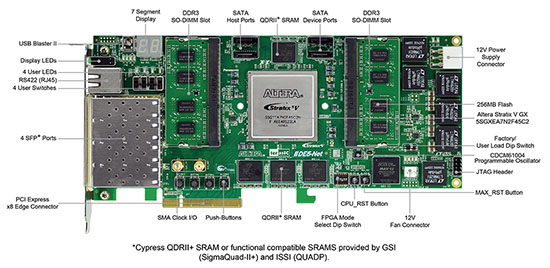 DE5-Net Specification
【More Information】
1. Develop Team: Reconfigurable Computing Group, UMass
2. About the Project : DE5 NetFPGA
3. More reference to download