Terasic headquarter is located in Hsinchu, Taiwan, which is also known as the Silicon Valley of Asia.

We have established a design center in Wuhan, Mainland, and a sales representative office in the US. Together with our more than 60 distributors all over the world, we are committed to providing our global customers with the best support and services.
Hsinchu, Taiwan

Terasic Inc.

Wuhan, Mainland

Terasic Technologies (Wuhan) Co.,Ltd.
Distributors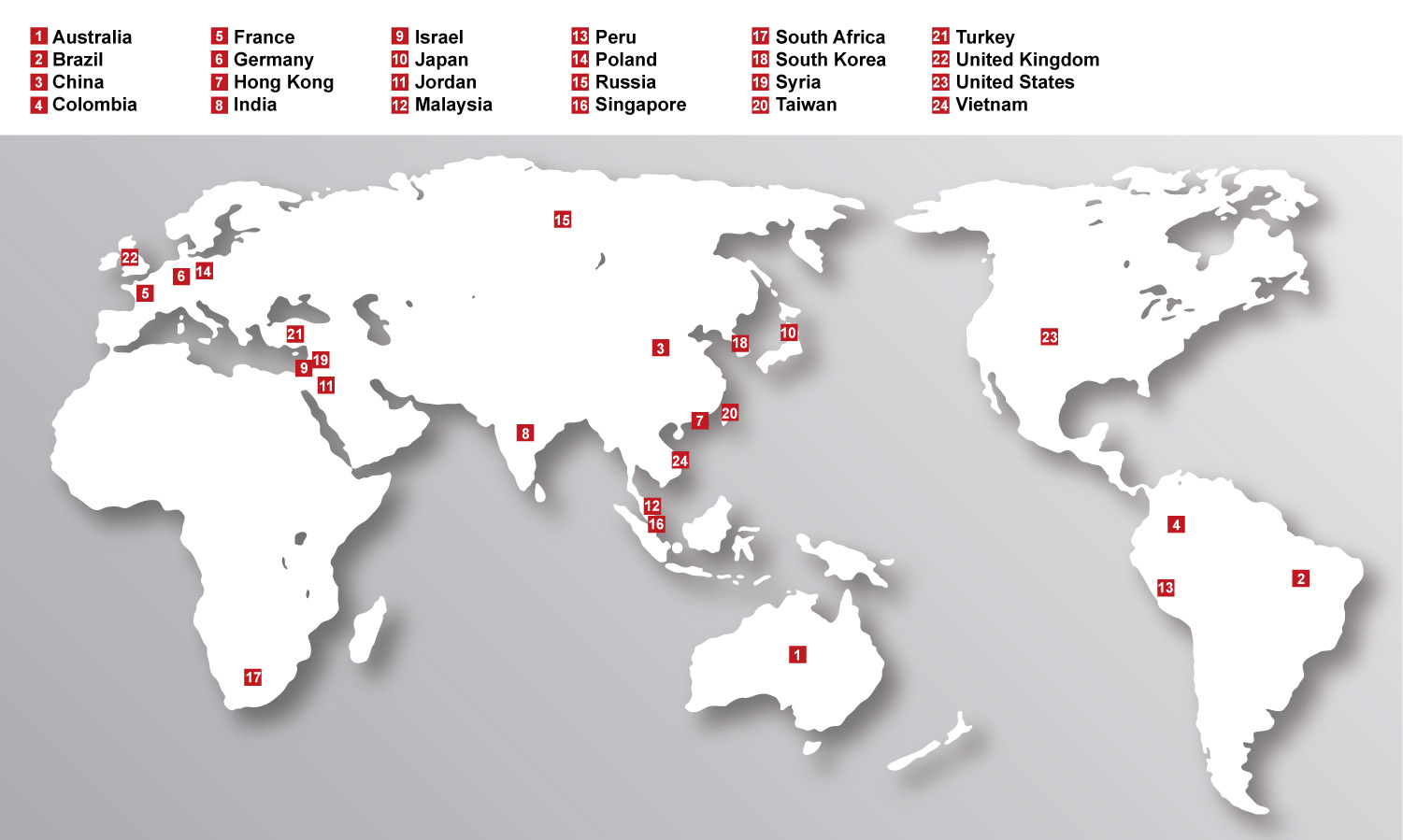 Braemac Pty Ltd

Contact Person:Andrew Steel
Tel:+61-2-9550-6600
Tel:+61-2-8594-5683
Fax:+61-2-9550-6377
Website:braemac.com.au

EXSTO Tecnologia

Contact Person:Cesar Sodre Moreira
Tel:+55-35-3743-4050
Fax:+55-35-3471 3783
Website:www.exsto.com.br

Microgenios Solucoes Eletronicas Ltda.

Contact Person:Fernando Simplicio
Tel:+55-011-5084-4518
Tel:+55-011-9468-2183
Fax:+55-011-3384-5598
Website:www.microgenios.com.br

Macnica DHW Ltda.

Contact Person:Fabio Petrassem de Sousa
Tel:+55-48-3225-5052
Website:macnicadhw.com.br

Mainland


Intel FPGA University Program: China Region

HuBei Xin He Xin Technologies Co., Ltd.

Chengdu Sprint Technology Co.,Ltd

Shanghai TranSYang Electronic Technology Co., Ltd

Plintec Ltda.

Contact Person:Plinio Naranjo
Tel: +57-1-2438105
Tel: +57-3138545037
Website:www.plintec.co

CNFM-UM

Contact Person:GIL Thierry
Tel:+33 (0)4 67149684
Website:www.lirmm.fr
Please be acknowledged that PCM - Pole CNFM de Montpellier only sells Terasic's products to universities or research centers. This distributor does NOT sell Terasic's products to individuals or companies.

A.L.S.E (Advanced Logic Synthesis for Electronics)

Contact Person:Bertrand Cuzeau
Tel:+33 (0)1-8416-3232
Website:www.fpga.fr

El Camino GmbH

Contact Person:Wolfgang Loewer
Tel:+49-8751-8787-0
Fax:+49-8751-8787-10
Website:www.elcamino.de

EBV Elektronik GmbH & CoKG

Tel:+49 (0) 8121-774-0
Fax:+49 (0) 8121-774-422
Website:www.ebv.com

Arrow Central Europe GmbH

ARROW ASIA PAC LTD

Contact Person:Ivy Liao
Tel:852-2484-2462
Tel:+86-755-8835-4958
Fax:852-2484-2120
Website:www.arrow.com

EDAS Technology

FLDec Systems

Contact Person:Vanchinathan T
Tel:+91-044-6125 2525.
Fax:+91-044-6125 2511
Add:Olympia Teknos Park, Level - 2&4, No - 28, SIDCO Industrial Estate, Guindy, Chennai - 600032, Tamilnadu, India
Email:info@fldec.com
Website:fldec.com

Arrow Electronics India Private Ltd.

Contact Person:Chandrashekar H
Tel:+91-80-41353737

Website:www.arrow.com

To-Team Ltd.

Contact Person:Nitzan Dolev
Mobile:+972-545-815493
Fax:972-538-928-5271
Website:toteam.co.il

Eastronics Ltd.

Contact Person:Shmuel Yerushalmi
Tel:+972-3-9458791
Tel:+972-50-5202413
Fax:+972-3-6458771
Website:www.easx.co.il

PROTOtyping Japan, Corp.

Solitonwave Co., Ltd

Tateno Dennou Inc.

Macnica, Inc.

AJ Infinite (M) Sdn Bhd

Acehub Vista Sdn. Bhd(Dreamcatcher)

Toshi Electric Sdn. Bhd.

Vision Venture Technology Sdn Bhd

PARURO PE SAC

Contact Person:Jorge Calle Tupac
Tel:+51-1-4223811
Website:paruro.pe

KAMAMI

Contact Person:Marcin Glodny
Tel:+4822-767-36-20
Fax:+4822-767-36-33
Website:Kamami.pl

EFO Ltd.

Contact Person:Svetlana Novoselova
Tel:+7-812-327-8654
Tel:358-10-849-3308
Fax:+7(812)3201819
Website:www.efo.ru

GAMMA, Vyborg, Russia.A

Contact Person: Dmitry Loginov
Tel:+7-81378-54653*113
Tel:+7-81378-25515
Website:icgamma.ru

Acetone-Solutions

Arrow Electronics Asia (S) Pte Ltd

Contact Person:Xiao,Winnie
Tel:+86-7558-2505734
Website:arrowasia.com

Cytech Global Pte Ltd

EBV Electrolink

Contact Person:Jason Page
Tel:+27-11-236-1918
Fax: +27112361913
Website:ebv.avnet.com

Woorimtni.Co., Ltd

Inipro Inc.

Contact Person:Polo Woo
Tel:+82-2-6956-9010
Website:inipro.net

EDU MARKET Co.

Contact Person:Rania Hijazee
Tel:+963-11- 680-99-710
Fax:+963-11-680-99-711
Website:edu-market.net
Note: It's our distributor in Arabic area.

ARROW ELECTRONICS TAIWAN LTD . ( 艾睿電子股份有限公司 )

Contact Person:Zoe Shih
Tel:+886-2-7703-8229
Tel:+886-981276119
Fax:+886-2-77238168
Website:www.arrow.com

Bing Ruei Co.,Ltd ( 秉銳有限公司 )

Contact Person:黃佩琳
Tel:+886-2-29419411
Fax:+886-2-29410961
Note: Only supply to Universities in Taiwan.

Galaxy Far East Corporation (GFEC) ( 茂綸股份有限公司 )

Contact Person:余小華
Tel:+886-3-5723622 Ext.3201
Fax:+886-3-5723655
Website:www.gfec.com.tw

Intelligent Control Technology Co., Ltd ( 智源科技股份有限公司 )

Contact Person:游怡芳
Tel:+886-2- 23780219
Fax:+886-2- 23788141
Website:www.ict.com.tw

Note: Only supply to Universities in Taiwan.

K&H MFG. Co.,LTD ( 掌宇股份有限公司 )

Contact Person:朱惠鈴
Tel:+886-2-2286-0700#336
Fax:+886-2-2287-4193
Website:www.kandh-edu.com.tw
Note: Only supply to Universities in Taiwan.

Web Dragon Internation Co.,LTD ( 網捷國際有限公司 )

Contact Person:陳靜嬅
Tel:+886-911573292
Fax:+886-2-29410961
Note: Only supply to Universities in Taiwan.

Absolute Data Services Ltd

Premier Farnell UK Limited

Arrow Electronics Inc.

Tel:1-800-833-3557
Website:www.arrow.com
Arrow also ships Terasic products worldwide (except for China), please contact Arrow for more details.

Digi-Key Corporation

Tel: 800-344-4539 or 218-681-6674
Fax: 218-681-3380
Website:www.digikey.com
Digi-Key also ships Terasic products worldwide (except for China), please contact Digi-Key for more details.


Rapid GCS, Inc.

Macnica Americas, Inc.

Parallax Inc.

Contact Person:Ken Gracey
Tel:01-916-625-3010
Tel:01-916-624-8333
Website:www.parallax.com

MOUSER ELECTRONICS

Contact:Customer Service and Technical Support
Toll Free (US): (800) 346-6873
Phone: (817) 804-3888
Fax:(817) 804-3899
Website:www.mouser.com
Mouser also ships Terasic products worldwide (except for China), please contact Mouser for more details.

VIETNAM ENTERPRISE SOLUTION AND INTERGRATED JOINT STOCK COMPANY

Contact Person:Nam Luu Hoai
Tel:(+84)982975818
Website:fpga.vn