What can I do when my valid credit card is not accepted?

When you failed to make the payment by choosing Credit Card, please choose PayPal to check out. Through PayPal, you could pay by your credit card. Here is the instruction for you to follow:
Please choose PayPal when checking out:

After entering PayPal's page, please enter your email address to proceed.


Please click "Pay with Credit or Debit Card" to proceed.


Please fill out your credit card information and choose "Pay Now"

If you have any further question or concern, please contact sales@terasic.com
How can I purchase the FPGA develop boards with the academic pricing?

In order for you to be qualified to purchase with the academic pricing, please provide one of the following three academic certifications so that we can verify your academic status and report back to Altera University Program.
1. Faculty/Student ID
Please upload a copy of your Professor or Student ID card to your member profile webpage. (You must register first. ) Or if you don't have your school ID cards, please provide one of the following.
Enrollment Letters.
Admission Letters.
The Current course schedule.
(All of the documentation above must have your name on it.)

2. Enrollment of Altera University Program for Professors/Instructors
You are welcome to enroll in Altera University Program at the following link.
After enrolling in, please inform us your Altera University Program ID number; or simply send us your enrollment letter.
or simply send us your enrollment letter. Here
3. Web link(s)
Please provide us a link of your department where has your name on it.
Or, advise us links of courses involving FPGA design, etc.
After your academic status is verified by AUP, your status will stay valid for one year.
The following steps are for your reference.
When shopping online, please click on "Agreement":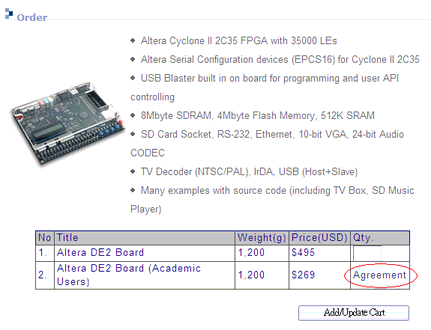 A window will pop up as shown below. Please read the agreement carefully and then click "Yes" to proceed.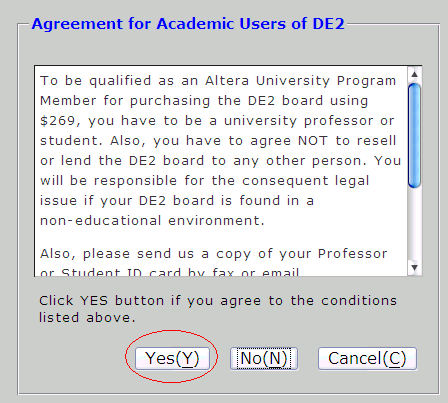 If you would like to use our board for educational purposes but could not provide any of the three academic certifications above, then please contact sales@terasic.com , we will do our best to assist academic users to buy with the academic price.
How to place an order?

Typically, you may order our products in one of four ways:
1. Shopping Cart
The best way for customers worldwide is to purchase online via Shopping Cart. Our Shopping Cart is very easy to use and it will take care of every detail to facilitate the delivery. Usually, you will have goods delivered in 2 working days after we ship it.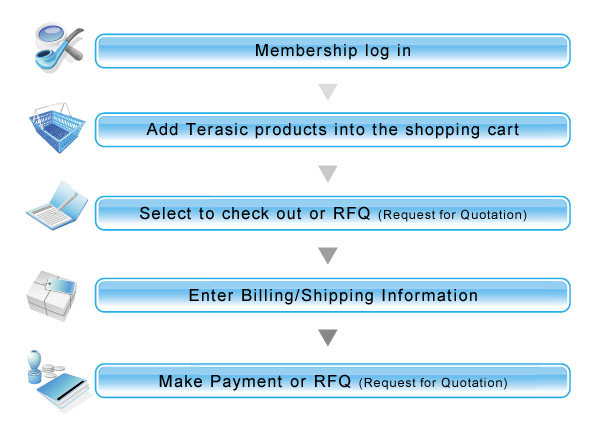 ‧ Proforma Invoice
We also can provide Proforma Invoice for you to make the payment.
Please inform us the product(s), quantity, and shipping&billing address by email or fax.
Email: sales@terasic.com
FAX: 886-3-572-6690
What can I do if I want to change my payment method from Wire transfer to Credit Card?

If your payment amount is under $5,000, please refer to the email with the title [TERASIC] Quotation Q2-0000-xxxx sending from Terasic system, and click the link as the attached photo remarks to pay by your credit card.
(If the payment amount is under $1,000, there will be additional $30 wire transfer fee added. Please remember to deduct the $30 wire transfer fee from your payment amount when you are processing the payment via credit card.)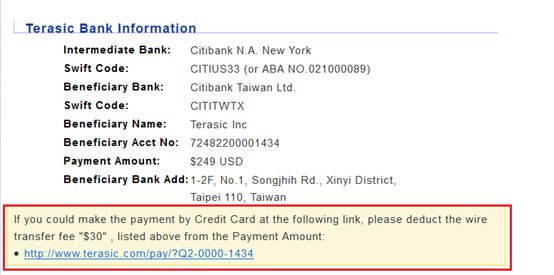 If your payment amount is $5,000, please use the bank information to pay by wire transfer as we do not accept paying by credit card when the amount is $5,000 and above.
How do I proceed the Credit Card / PayPal payment through the QuickPay link?

Please fill out the related information then go to the next step.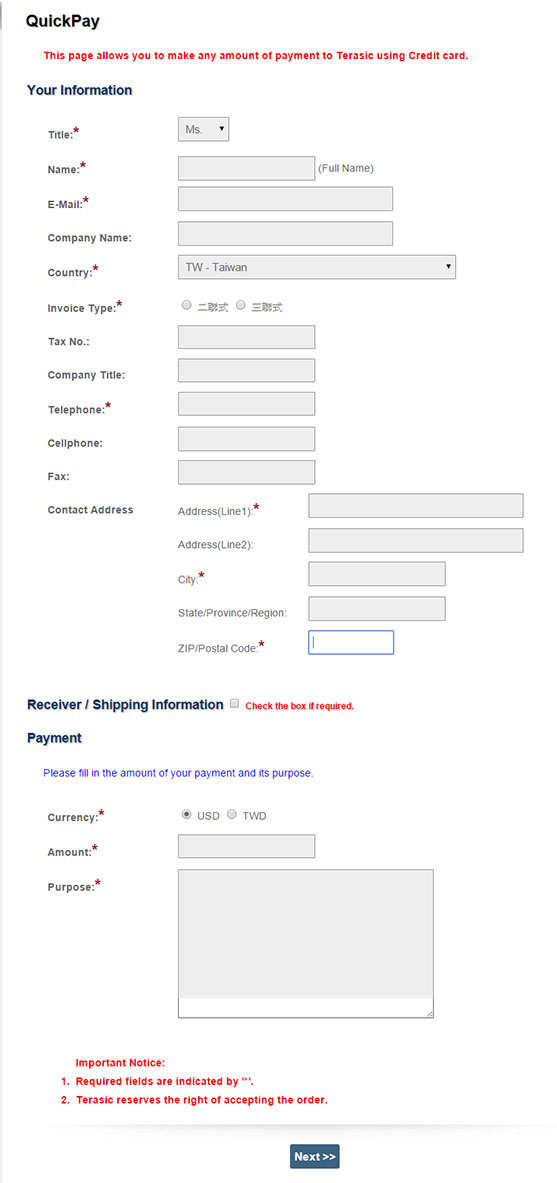 Confirm the related information and choose your payment methods.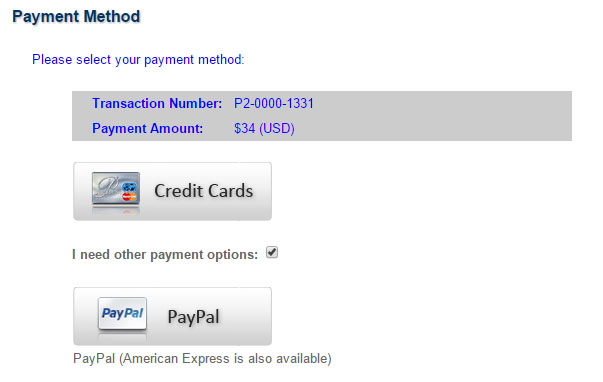 Refer to the Credit card/PayPal payments at How can I make a payment?
How can I make a payment?

We have several payment methods available when you place an order. We try to make your order as convenient as possible.
1. Credit Card
We accept VISA and Master Card. Credit card is one of our preferred payment methods, mainly because it allows us to instantly verify your payment information. We will be able to ship your order right away. You can safely enter your credit card details via HiTRUST which adopts 128bit SSL to secure critically sensitive information. All your credit card information will be directly uploaded to the acquirer bank.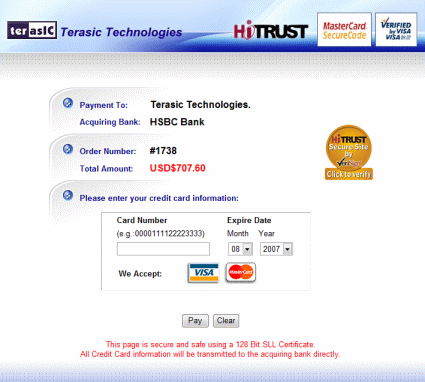 2. PayPal
PayPal is another preferred payment method. It enables you to send payments quickly and securely online using a credit card or bank account. As a PayPal member, it's very easy and convenient for you to make the payment by logging in. If you were not registered, you can make the payment by your credit card through PayPal as well!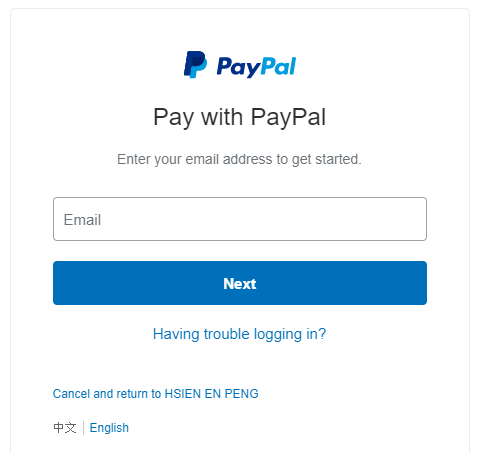 If you don't want to use Credit Card on the Internet, you can transfer the payment to our bank account.
Please make the payment by the bank information given below:
BENEFICIARY BANK : First Commercial Bank Chupei Branch

SWIFT CODE : FCBKTWTPXXX

BENEFICIARY BANK ADD : No.210, Guangming 5th St., Zhubei City, Hsinchu County (302). Taiwan

BENEFICIARY NAME : TERASIC INC.

BENEFICIARY ACCT NO. : 31340007198
Note: When the total purchase amount is less than USD 1,000, the transaction fee, USD 30, will be added. Therefore, we would encourage you to make a payment via Credit Card or PayPal.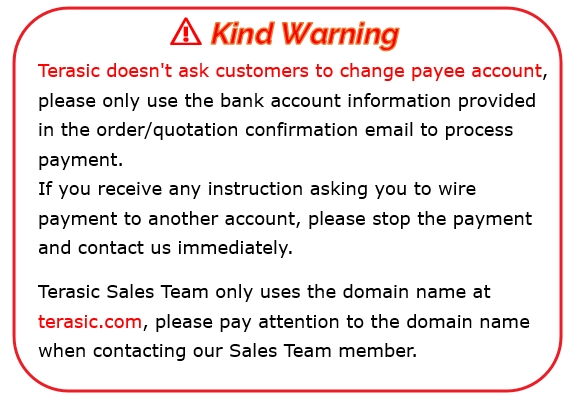 How can a professor request Quartus II and the subsequent upgrades?

Create your myAltera account. Here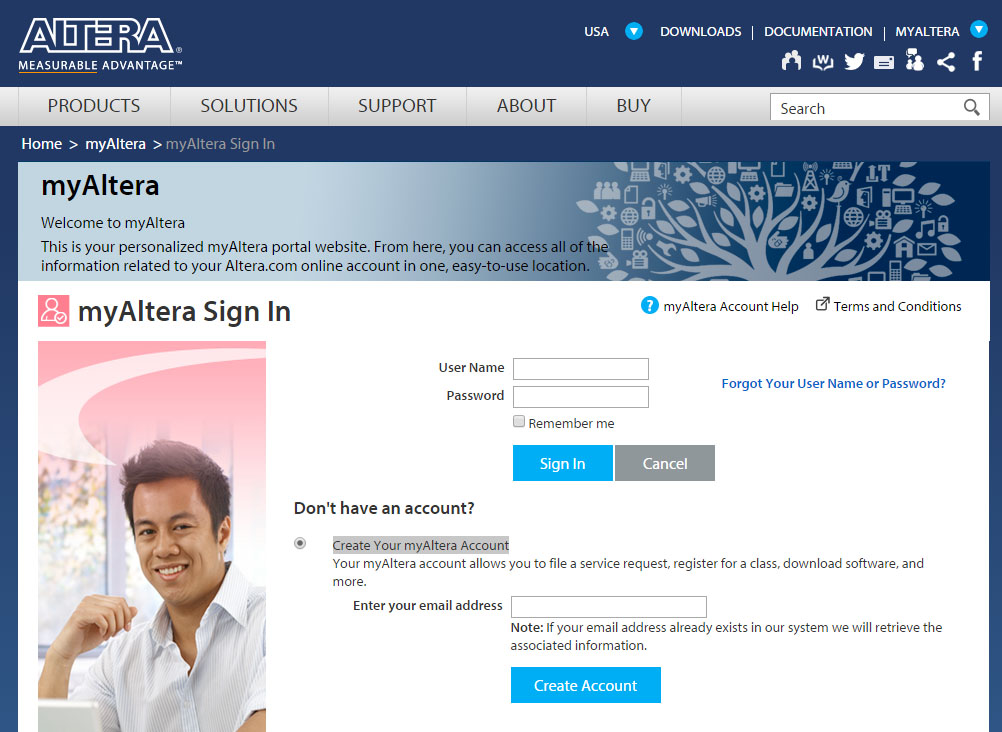 Please log-in and request the license at:
https://www.altera.com/support/training/university/members.html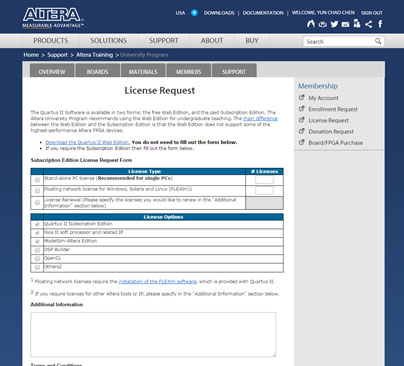 After receiving a confirmation email from Altera University Program, your enrollment is completed. As a member of Altera University Program, you are eligible to download the latest commercial version of Quartus II .
http://dl.altera.com/?edition=web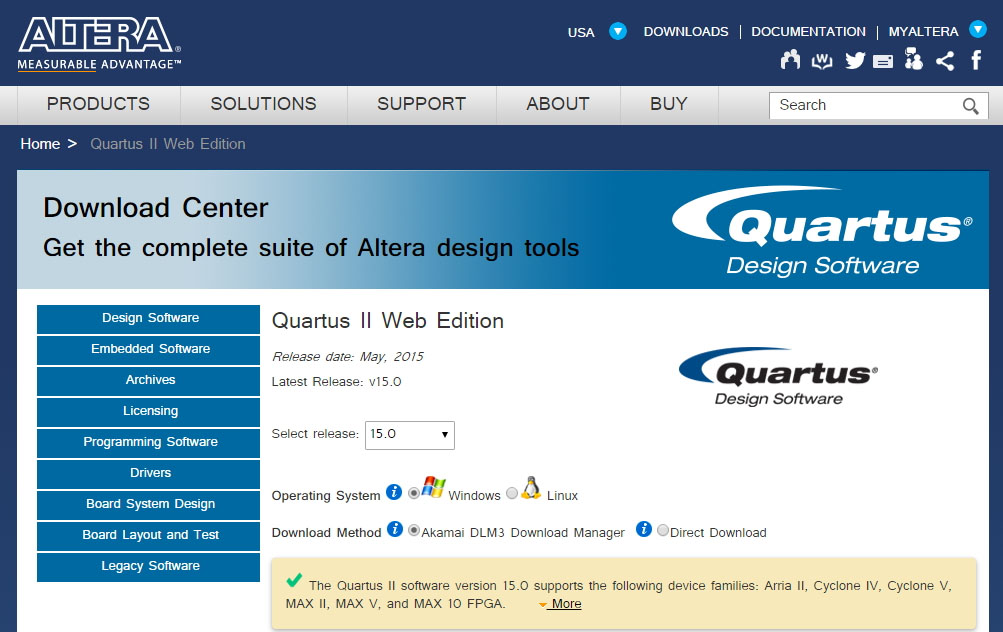 How much is the importing charges?

We do not include any importing tax/duty/tariff in our shipping fee or any of our charges. Customers shall be responsible for the related charges.
Since the Customs regulations vary from country to country, we will provide our exporting HTS Code on our commercial invoice for your Customs clearance reference. For further questions regarding importing charges, please consult your local FedEx/ DHL/ UPS offices or local Customs for detailed information.
How do I find the HTS code for my product?

Please click on the link for more information. Terasic HTS Code
Please not that HTS codes can be varied in different countries. The codes Terasic provides for you is just a basis.
When can I receive my goods after the order is placed?

Usually it will depend on what kind of shipping method you chose for your order.
If you choose:
2-3 days Express Delivery: Normally it takes 2-3 business days to deliver. (Under no clearance delays)
FedEx 5-7 days International Economy: Normally it takes 5-7 business days to deliver. (Under no clearance delays)
Note:
*The above is not applicable if the shipping address is defined as the remote areas of FedEx/DHL/UPS.
*Customers shall be responsible for the delivery delays caused by not being able to provide the necessary custom clearance documents.
Your own forwarder: Based on the service you choose.
How do I return the goods?

Please refer to the Return Materials Authorization.
What can I do if there are problems with my goods?

Please refer to the Return Materials Authorization.
Why the status of my orders is pending for a long time?

We are not able to verify your academic status.
If you are purchasing with the academic pricing, you'll have to upload your academic identity to your Terasic account; once the identity is verified and we've confirmed the payment, your shipment will be released as soon as possible.

The goods you ordered are out of stock.
Some of the goods you have ordered are out of stock, we'll arrange the shipment as soon as the stock is available. Please contact sales@teraseic.com for the lead time of the out of stock items.

We need your confirmation on questions for your order.
There might be some shipping questions, or item questions that we need your confirmation to release the shipment.
Is partial shipment allowed?

Normally we do not accept partial shipment in one order; if you have such requests, please contact sales@terasic.com .


Feedback
Terasic strives to bring the best computing experience in the world.
We'd like to know how we can best serve you.
Please do not hesitate to
let us know
.
Thank you!