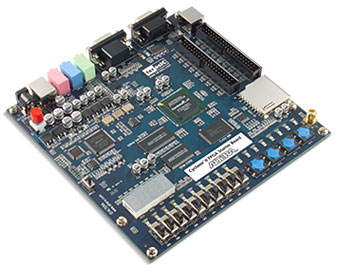 The low-cost Cyclone® II FPGA Starter Development Kit is ideal for evaluating Altera's high-performance, low-power, 90-nm technology. By using this RoHS compliant starter development kit, you will see 60 percent (on average) higher performance and 50 percent (on average) lower power than competing 90-nm, low-cost FPGAs. Several reference designs and demonstrations included in the kit make for a quick, "out-of-the-box" evaluation experience.
The Cyclone II FPGA Starter Development Kit includes the following:
Altera's easy-to-use Quartus® II design software (Web Edition)
Nios® II Embedded Design Suite (EDS)
Complete documentation
Cables and power supply
Cyclone II FPGAs are perfectly suited as an embedded processor or microcontroller when combined with Altera's 32-bit Nios II embedded processor intellectual property (IP) cores. You can add many other functions to the FPGA with additional IP cores available from Altera and Altera's partners.
Product information on Altera Website
Development Kit Contents
The Cyclone II FPGA Starter Development Kit is RoHS compliant and features:

Cyclone II Starter Development Board
Cyclone II EP2C20F484C7N device
Configuration

USB-BlasterTM download cable (embedded)
EPCS4 serial configuration device

Memory

8-Mbyte SDRAM
512-Kbit SRAM
1- to 4-Mbyte Flash

Clocking

SMA connector (external clock input)

Audio

24-bit coder/decoder (CODEC)

Switches and indicators

Ten switches and four push buttons
Four 7-segment displays
Ten red and eight green LEDs

Connectors

VGA, RS-232, and PS/2 ports
Two 40-pin expansion ports
SD/MMC socket

Cables/power

USB cable
External power supply with U.S. adaptor (optional, but recommended when using the kit with additional accessory daughtercards)

Cyclone II FPGA Starter Development Kit CD-ROM

Reference designs and demonstrations targeted for the Cyclone II FPGA Starter Development Board
User manual
Reference guide

Quartus II Web Edition CD-ROM
Nios II EDS CD-ROM