Altera Cyclone III FPGA Starter Kit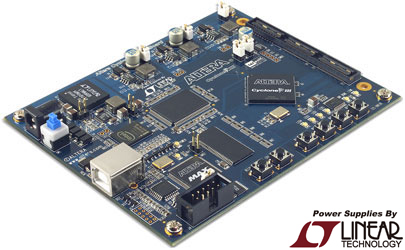 The economical Cyclone® III FPGA Starter Kit is easy to use, and an ideal introduction for users who have never designed with FPGAs before. For experienced FPGA designers checking out the Cyclone III architecture, you'll love building systems leveraging the 60 percent (on average) faster performance and 50% lower power that Cyclone FPGAs offer over the competition. Several design examples included in the kit make for a quick "out-of-the-box" evaluation experience.
Cyclone III FPGAs are the first low-cost FPGA family available in the marketplace harnessing the cost and low-power advantages of 65-nm process technology. They are perfectly suited as embedded processors or microcontrollers when combined with Altera's 32bit Nios II embedded processor intellectual property (IP) cores. You can add many other functions to the Cyclone III FPGA with additional IP cores available from Altera and Altera's partners.
Prodcut information on Altera Website
Development Kit Contents
The Cyclone III FPGA Starter Development Kit is RoHS compliant and features:
Cyclone III Starter Board

Cyclone III EP3C25F324 FPGA
Configuration

Embedded USB-Blaster™ circuitry (includes an Altera EPM3128A CPLD) allowing download of FPGA configuration files via the users USB port

Power and analog devices from Linear Technology

Switching power supply LTM4603EV-1
Switching and step-down regulators LTC3413, LT1959

Memory

256-Mbit DDR SDRAM
1-Mbyte Synchronous SRAM
16-Mbytes Intel® P30/P33 flash

Clocking

50-MHz on-board oscillator

Switches and indicators

Six push buttons total, 4 user controlled
Seven LEDs total, 4 user controlled

Connectors

High-Speed Mezzanine Connector (HSMC)

Supporting 13 user controlled LVDS I/O channels and associated control signals

USB type B

Cables and power

USB cable
External power supply (U.S. compatible plug with EU and UK adaptors)

Cyclone III FPGA Starter Kit CD-ROM

Example designs targeting the Cyclone III FPGA Starter Board

Create an FPGA design in one hour
Power measurements of a Cyclone III FPGA
A 32-bit soft processor system inside an FPGA

Complete documentation

User guide
Reference manual
Board schematic and layout
Bill of Materials
Product and partner information

Download instructions to receive the latest version of the following software (at no charge):

Quartus® II Web Edition (FPGA design software)
ModelSim® -Altera® Web Edition (FPGA simulation software from ModelSim)
Nios II Embedded Design Suite, Evaluation Edition (32-bit microprocessor software)

Size:125*100 mm