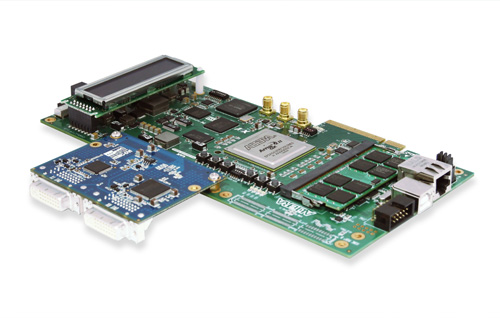 The Arria II GX Video Development System is an ideal video processing platform for high-end video applications. Terasic recognized for its strong design expertise in high-end video, imaging and multimedia products have made available a video development package that targets video processing development using an Arria II GX device. The package includes an Arria II GX FPGA development kit (DK-DEV-2AGX125N) featuring an EP2AGX FPGA device with HSMC connectors to allow additional functionality and connectivity via HSMC daughter boards. The Arria II GX FPGA development kit delivers a complete PCI Express-based development platform. This interface uses the Arria II GX device's PCI Express hard IP to accelerate development time for high-volume PCI Express applications including add-in cards, host bus adapters, graphics cards, and high-end servers. Furthermore, the board includes an abundant amount of memory including on-board DDR3 device and DDR2 SODIMM, creating a complete integrated memory interface solution for memory-intensive applications.
The DVI-HSMC daughter card part of the bundled package will allow developers to access high quality and high resolution video signals that can support resolution up to 1600x1200. A complete DVI video controller design with source code is provided.
The development can also allow users to experience advanced image processing designs incorporating VIP (Altera's Video and Image Processing Suite MegaCore Functions).