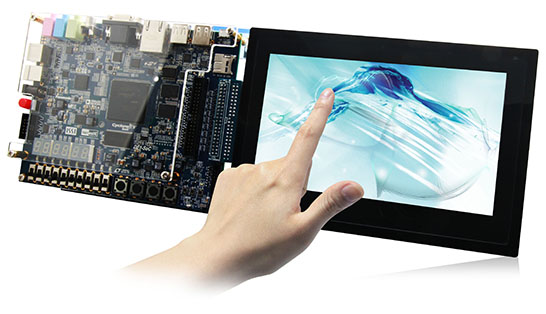 DE1-SoC-MTL delivers everything you need to develop multimedia applications using a digital multi-touch panel and includes complete reference designs and source code for implementing on a wide range of applications. The fully integrated kit allows developers to rapidly customize to best suit their specific application. The DE1-SoC-MTL features the DE1-SoC development board comes with the Cyclone V SoC FPGA, and the Terasic Multi-touch LCD Module (MTL), which is an all-purpose capacitive touch-screen for FPGA applications it provides multi-touch gesture and single-touch support. An IDE cable with an IDE to GPIO adapter (ITG) is used to interface the MTL with DE1-SoC board through a 2x20 GPIO interface.
The DE1-SoC-MTL is preconfigured with an FPGA hardware reference design including several ready-to-run demonstration
applications stored on the provided SD card. Software developers can use these reference designs as their platform to quickly
architect, develop, and build complex embedded systems.
Component Solution for Altera FPGAs
* Power Solution

* Memory Solution

* Clock Solution

* Ethernet Solution

* Inductive Component Solution

* Capacitive Component Solution

* ADC, Video, Accelerometer and Reset Generator Solution