Terasic Delivers Cutting-Edge Stratix IV GX FPGA System for Aerospace Industry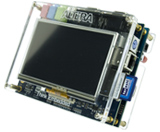 The Nios® II Embedded Evaluation Kit, Cyclone® III Edition, is a first-class, low-cost evaluation platform for embedded developers. Software developers, especially those new to FPGA design, can install and evaluate the Nios II Embedded Design Suite (EDS)—a comprehensive software development suite for embedded applications—all at no cost. The included software tutorials and examples come with full source code showing applications such as Picture Viewer, Web Server, C-to-Hardware (C2H) acceleration, and graphics.
Hardware engineers will find Altera's low-cost, low-power, and high-performance Cyclone III FPGAs are perfectly suited as embedded processors or microcontrollers when combined with the 32-bit Nios II embedded processor.

The low-cost Cyclone® II FPGA Starter Development Kit is ideal for evaluating Altera's high-performance, low-power, 90-nm technology. By using this RoHS compliant starter development kit, you will see 60 percent (on average) higher performance and 50 percent (on average) lower power than competing 90-nm, low-cost FPGAs. Several reference designs and demonstrations included in the kit make for a quick, "out-of-the-box" evaluation experience.

The economical Cyclone® III FPGA Starter Kit is easy to use, and an ideal introduction for users who have never designed with FPGAs before. For experienced FPGA designers checking out the Cyclone III architecture, you'll love building systems leveraging the 60 percent (on average) faster performance and 50% lower power that Cyclone FPGAs offer over the competition. Several design examples included in the kit make for a quick "out-of-the-box" evaluation experience.

Supports 1.8-V, 2.5-V, 3.3-V, and 5.0-V systems
Supports SignalTap II logic analysis capability
Supports active serial configuration mode for EPCS serial configuration devices
Supports communication and debugging of the Nios® II embedded processor family