DE0-Nano Development and Education Board
Download
Documents
| | | | | |
| --- | --- | --- | --- | --- |
| DE0-Nano User Manual | 2.3 | 9395 | 2021-03-10 | |
CD-ROM
| | | | | |
| --- | --- | --- | --- | --- |
| DE0-Nano CD-ROM | 1.2.8 | | 2021-03-10 | |
| DE0-Nano Control Panel | 1.4.0 | | 2018-12-18 | |
| DE0-Nano System Builder | 1.0.3 | | 2017-04-28 | |
Please note that all the source codes are provided "as-is". For further support or modification, please contact Terasic Support and your request will be transferred to Terasic Design Service.
More resources about IP and Dev. Kit are available on Intel User Forums.
Altera Software
Demonstrations
DE0-Nano Control Panel
Allows users to access various components on the DE0-Nano board from a host computer.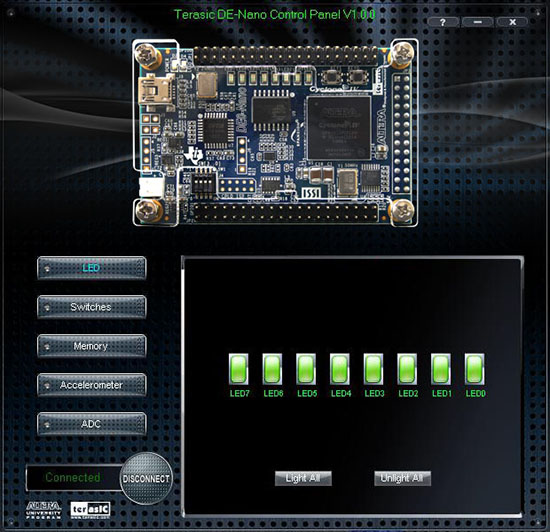 DE0-Nano System Builder
This tool will allow users to create a Quartus II project on their custom design for the DE0-Nano board with the top-level design file, pin assignments, and I/O standard settings automatically generated.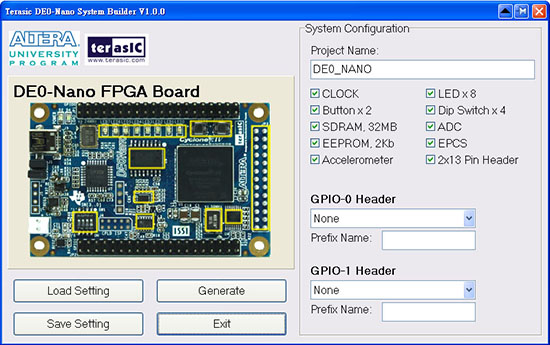 Related course resources:
School: Universidad Pontificia BolivarianaInstructor:Prof. Holguer A. Becerra
Course 1: - ECE 31289 Advanced Digital Design
Other course resources you might interested:
School: Cornell UniversitySenior Lecturer: Bruce Land
Course 1: - ECE5760 Advanced Microcontroller Design and system-on-chip [DE2]
Course 2: - ECE 5760 Simplified Floating Point for DSP [DE2]
---