DE5-Net FPGA Development Kit
Download
Document
| | | | | |
| --- | --- | --- | --- | --- |
| DE5-Net User Manual | 1.1.1 | 5957 | 2018-06-20 | |
CD-ROM
| | | | | |
| --- | --- | --- | --- | --- |
| DE5-Net System CD | 2.0.1 | | 2018-06-20 | |
BSP(Board Support Package) for Intel FPGA SDK OpenCL 18.0
| | | | | |
| --- | --- | --- | --- | --- |
| DE5-Net OpenCL User Manual | | 2520 | 2018-10-11 | |
| DE5-Net OpenCL BSP(.zip) for Windows | | | 2018-10-11 | |
| DE5-Net OpenCL BSP(.tar.gz) for Linux | | | 2018-10-11 | |
BSP(Board Support Package) for Intel FPGA SDK OpenCL 16.1
| | | | | |
| --- | --- | --- | --- | --- |
| DE5-Net OpenCL BSP for Windows | 1.1.0 | | 2017-05-25 | |
| OpenCL User Manual | 1.0.2 | 2272 | 2017-04-26 | |
| DE5-Net OpenCL BSP for Linux | 1.0.2 | | 2017-04-26 | |
BSP(Board Support Package) for Intel FPGA SDK OpenCL 16.0
| | | | | |
| --- | --- | --- | --- | --- |
| DE5-Net OpenCL BSP for Windows | | | 2016-12-20 | |
| OpenCL User Manual | | 2174 | 2016-11-01 | |
| DE5-Net OpenCL BSP for Linux | | | 2016-11-01 | |
BSP (Board Support Package) for Intel FPGA SDK OpenCL 14.0/14.1 - Network Platform
| | | | | |
| --- | --- | --- | --- | --- |
| User Manual for OpenCL - Network Platform | | 2703 | 2015-07-17 | |
| DE5-Net Network BSP for Windows | | | 2015-07-17 | |
| DE5-Net Network BSP for Linux | | | 2015-07-16 | |
BSP(Board Support Package) for Intel FPGA SDK OpenCL 14.0/14.1
| | | | | |
| --- | --- | --- | --- | --- |
| DE5-Net OpenCL BSP for Windows | | | 2015-05-05 | |
| OpenCL User Manual | 1.0 | 2502 | 2014-11-11 | |
| DE5-Net OpenCL BSP for Linux | | | 2014-11-11 | |
BSP(Board Support Package) for Intel FPGA SDK OpenCL 13.1
| | | | | |
| --- | --- | --- | --- | --- |
| OpenCL User Manual | 13.1 | 3009 | 2014-11-11 | |
| DE5-Net OpenCL BSP for Windows | | | 2014-02-07 | |
| DE5-Net OpenCL BSP for Linux | | | 2014-02-07 | |
Please note that all the source codes are provided "as-is". For further support or modification, please contact Terasic Support and your request will be transferred to Terasic Design Service.
More resources about IP and Dev. Kit are available on Intel User Forums.
DE5-Net Tools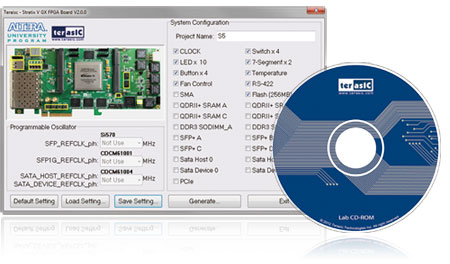 System Builder
The System Builder allows users to create a Quartus II project that includes the top-level design file, pin assignments, and I/O standard setting for the board.
Reference Designs
The FPGA System CD Kit contains various reference designs with source code and complete document reducing the development cycle.
DDR3 SDRAM Test
SigmaQuad-II+/QDRII+/QUADP Test
PCIe Express Communication
Programmable Oscillator
---