BTS-TMD
Documents
| | | | | |
| --- | --- | --- | --- | --- |
| User Manual | 1.0 | 1872 | 2015-07-24 | |
CD-ROM
| | | | | |
| --- | --- | --- | --- | --- |
| BTS-TMD CD-ROM | 1.0.0 | | 2015-07-24 | |
Please note that all the source codes are provided "as-is". For further support or modification, please contact Terasic Support and your request will be transferred to Terasic Design Service.
More resources about IP and Dev. Kit are available on Intel User Forums.
Demonstrations
This demonstrations shows how to connect the MAX 10 NEEK board and BTS-TMD Bluetooth module. The bundle communicates with a smart device via Bluetooth 2.1. The data retrieved from the humidity and temperature sensor HDC 1000 on MAX 10 NEEK board will be transmitted to the SPP (Serial Port Profile) software on the smart device via Bluetooth SPP protocol.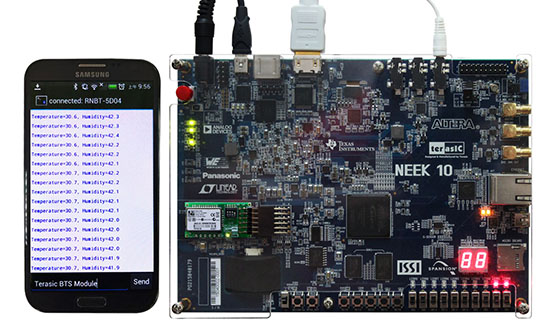 ---