Terasic TR5 FPGA Development Kit
Documents
| | | | | |
| --- | --- | --- | --- | --- |
| TR5 User Manual | 1.0.7 | 9063 | 2020-04-20 | |
BSP(Board Support Package) for Altera SDK OpenCL 16.1
| | | | | |
| --- | --- | --- | --- | --- |
| TR5 OpenCL BSP for Windows | 1.1 | | 2017-05-25 | |
| OpenCL User Manual | 1.1 | 2211 | 2017-04-18 | |
| TR5 OpenCL BSP for Linux | 1.1 | | 2017-04-18 | |
CD-ROM
| | | | | |
| --- | --- | --- | --- | --- |
| TR5 CD-ROM for A7 device | 1.2.3 | | 2020-04-20 | |
| TR5 CD-ROM for AB device | 1.1.1 | | 2017-12-05 | |
Please note that all the source codes are provided "as-is". For further support or modification, please contact Terasic Support and your request will be transferred to Terasic Design Service.
More resources about IP and Dev. Kit are available on Intel User Forums.
TR5 Tools
TR5 System Builder – This is a powerful tool that comes with the TR5 board. This tool allows users to create a Quartus II project for their custom design on TR5 board. The top-level design file, pin assignments, and I/O standard settings for TR5 board can be generated automatically by the TR5 System Builder. Users can also select various daughter cards in conjunction with TR5 via FMC connectors using the TR5 System Builder.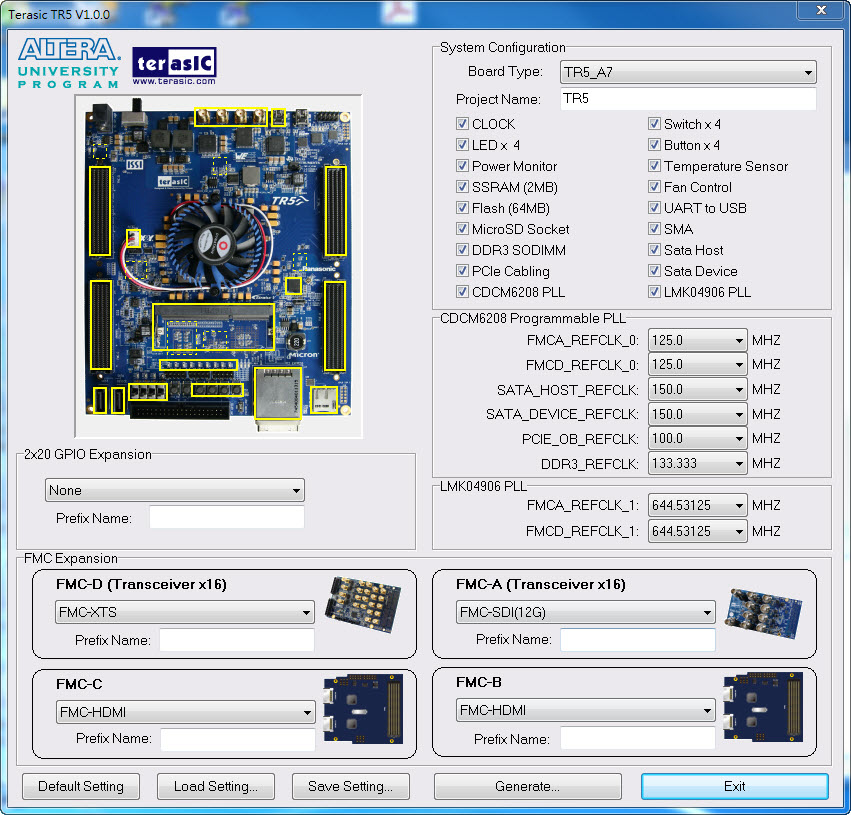 TR5 Reference Designs
Breathing LEDs
Configuration for External Clock Generator
Flash, SSRAM and SD Card Test Code based on Nios II
Fan Control and Temperature Monitor
Communication with Host PC through UART-to-USB
Parallel Flash Loader
DDR3 Nios II Read/Write Loopback Test
DDR3 HDL Read/Write Test
Loopback Test for FPGA Mezzanine Card (FMC) Connector
PCI Express Fundamental Communication
PCI Express Image Processing Application

---